Anti-vaxxers are still on Instagram, and they've found a new way to elude Facebook's censors: 2020 political hashtags.
Facebook started blocking anti-vaxx hashtags on Instagram last year, but as the presidential campaign heats up, they're trying to reach new audiences by attaching themselves to popular tags like #maga2020 and former Vice President Joe Biden's favorite folksy slogan: "No malarkey!"
A network of more than two dozen accounts is pumping out hundreds — and perhaps more — of anti-vaxx Instagram posts with the tags, according to the social intelligence firm Storyful. It's an early preview of how anti-vaxxers could use the chaos around the election as a springboard on social media.
"The biggest cause of vaccine hesitancy in this country is the lack of true vaccine science," said a Monday post from a prolific account, @_pro_facts_er_, that included a misspelled take on the Bidenism, #nomalarky.
"It's a cross-pollination into new communities and new audiences," said Renée DiResta, research manager at the Stanford Internet Observatory. "They just want to piggyback on whatever is popping."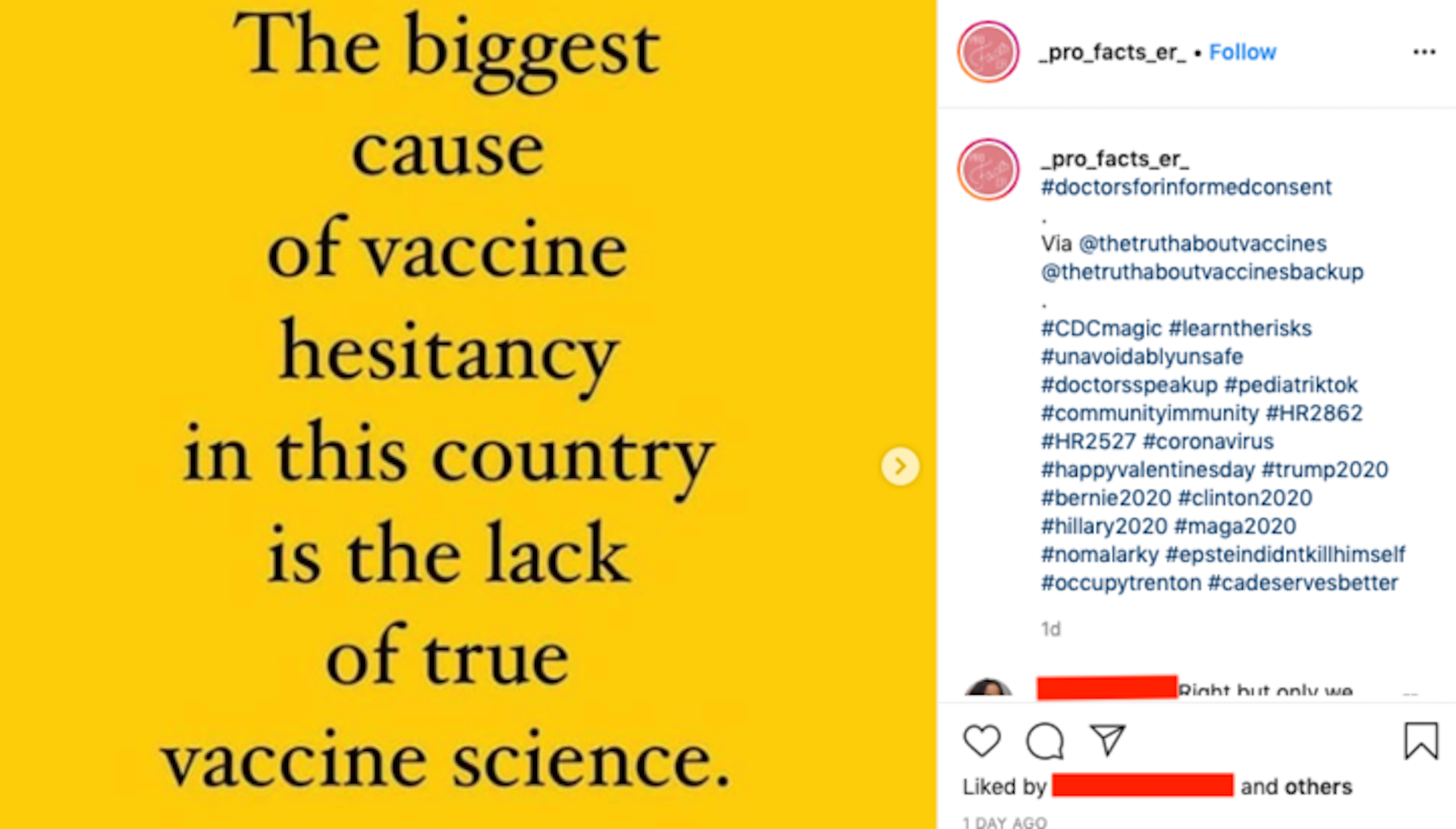 An overwhelming majority of Americans believe in vaccines. Of the fraction who are hesitant, a miniscule slice of true believers push a big chunk of the misinformation on social media, said Sean O'Leary, a member of The American Academy of Pediatrics' Committee on Infectious Diseases.
That's thought to have contributed to dipping vaccination rates and the return of previously eradicated diseases, like measles, in countries including the United States.
"This stuff that they spread is so far from the truth, and yet it takes a hold."
"That's why you see so much frustration from pediatricians and policymakers," O'Leary said. "This stuff that they spread is so far from the truth, and yet it takes a hold."
Storyful found more than 300 examples of anti-vaxx Instagram users congregating around 2020 hashtags over the past two months. The uptick came after Instagram and parent company Facebook announced they would disable or limit the distribution of prominent anti-vaxx hashtags, such as #vaccineskill, that met an unspecified threshold for false or misleading content.
In a statement to VICE News, a Facebook spokesperson said it had cut the reach of the central account in the network, @_pro_facts_er_, as it reviewed other users.
"We work to limit the spread of vaccine misinformation on Instagram," they added in a statement. "When an account repeatedly posts misinformation, we take action. This includes making content from that account harder to find, for example, by filtering it from Explore and hashtag pages."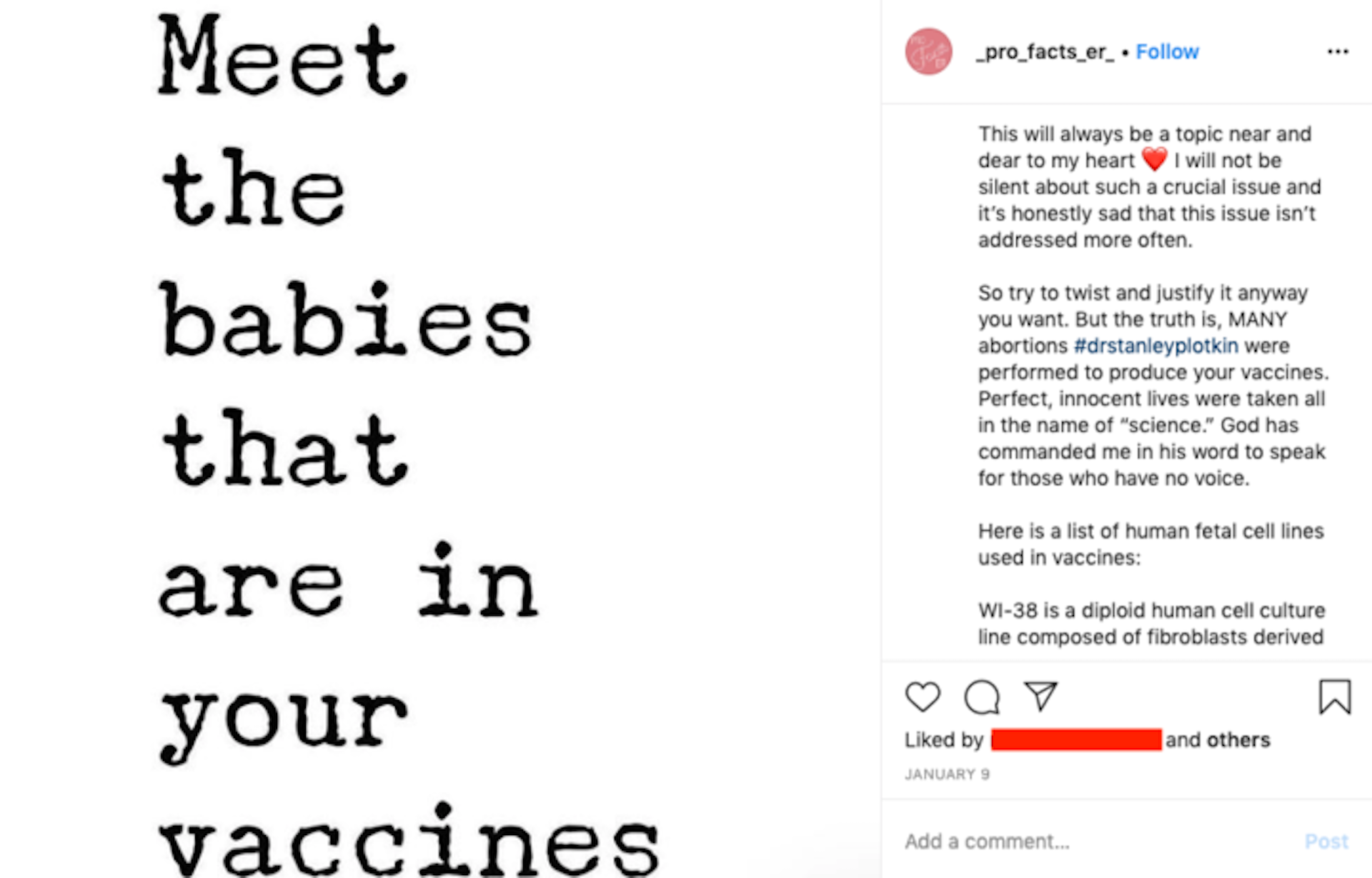 At least dozen other anti-vaxx accounts revolves around @_pro_facts_er_. It shares 61 percent of its nearly 14,000 followers with noted anti-vaxxer Robert F. Kennedy Jr., according to profile information published by Instagram. And its 4,700-plus posts largely veer toward vaccine-related fear mongering, which appears to be in service of opposing legislative proposals in Washington last year to bolster vaccination efforts.