10.11am BST
Investec: Glencore's shareholders could be wiped out
Here's the key slide from today's Investec report, showing how Glencore investors could be flattened unless commodity prices scramble back.
Glencore, though, argues that its debt pile is less alarming than it appears, because it holds large reserves of copper and iron ore which can be sold if needed.
Updated at 10.13am BST
10.09am BST
Glencore is turning into one of the greatest destructions of shareholder value in recent years.
Its shares have fallen steadily since floating just four years ago – today's selloff means they've lost 84%.
9.59am BST
Volkswagen "suspends R&D chiefs"
The Volkswagen emissions scandal has taken another twist.
There are reports that the heads of research and developments at its VW, Porsche and Audi divisions have just been suspended:
The news came as Angela Merkel's chief of staff, Peter Altmaier, told Bloomberg TV that Volkswagen must explain how illicit software was installed on 11 million cars to evade emission tests.
This is a serious matter. Volkswagen must clarity what went wrong, how it went wrong, and how it can be repaired.
9.56am BST
City firm Investec appears to have triggered the rout in Glencore's shares today, with a very bearish analyst note.
Investec warned that Glencore's equity value could be wiped out unless the prices of key commodities (such as iron ore and copper) pick up.
It wrote:
"The challenging environment for mining companies leads us to the question of how much value will be left for equity holders if commodity prices do not improve."
Glencore has just raised $2.5bn in a new equity issue — at 125p per shares, and is also cutting its dividend to help cut $10bn from its $30bn debt pile.
But with the Chinese economic slowdown continuing, and commodities prices slumping, will this be enough? This morning's share price reaction suggests not….
9.35am BST
Yikes – Glencore shares are now down by 10%, as analysts speculate that investors could be wiped out.
Updated at 9.36am BST
9.25am BST
Glencore shares hit record lows
Shares in commodity trading firm Glencore are slumping to fresh record lows today.
Fears over the Chinese slowdown, and debt-laden Glencore's ability to ride it out, have dragged its shares down 8% this morning to 89p.
They've now lost 70% of their value this year alone, and over 80% since floating at 530p in 2011.
Glencore launched a debt restructuring last month, to cut its borrowings from $30bn to $20bn. Analysts fret that the company's debt pile could become increasingly hard to manage, unless commodity prices rally.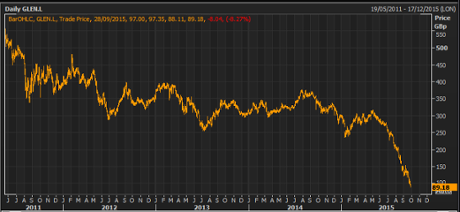 Updated at 10.00am BST
9.13am BST
Back in the UK, German discount supermarket chain Aldi has announced it will start selling goods over the internet.
Aldi is starting with life's essentials – shipping wine by the case early next year, followed by special offers of non-food products. The move comes after Aldi posted record sales for 2014, as its no-frills approach proves a winner with UK consumers.
8.44am BST
In the oil sector, Royal Dutch Shell has abandoned its plans to drill off the coast of Alaska.
The company admitted this morning that its "Burger J" exploration well, located in Alaska's Chukchi Sea, had proved disappointing.
It told shareholders:
For an area equivalent to half the size of the Gulf of Mexico, this basin remains substantially under-explored.

Shell has found indications of oil and gas in the Burger J well, but these are not sufficient to warrant further exploration in the Burger prospect.
The move will cost Shell $4.1bn in writedowns and contractual commitments, but will be welcomed by environmental groups.
8.26am BST
China and Catalonia drag European markets down
European stock markets are all as red as the moon this morning:

Traders are blaming the 8.8% fall in Chinese industrial profits in August, which is the biggest decline since at least 2011.
Mike van Dulken of Accendo Markets explains:
The negative opening comes after August Chinese Industrial Profits declined at their fastest annual pace since records began four years ago, with growth hurt by currency devaluation and financial market volatility, which just adds to the growing slowdown worries overshadowing the world's #2 economy and impacting the commodities space.
The partial victory secured by separatist parties in Catalonia last night is also a factor, he adds:
A pro-independence win for the Catalonia electorate also adds to Eurozone political risk, showing desire for the key state to break away from Spain and means the likelihood of an official Scottish like 'Yes or No' vote in the next 18-months.
8.18am BST
8.11am BST
Catalan bond yields rise
Catalonian debt is falling in value this morning after separatists took control of Catalonia's regional government last night, possibly heralding another chapter in the eurozone crisis.
The yield on Catalan 10-year bonds has jumped to 4.23%, from 3.99%, meaning the debt is seen as riskier.
As Ashifa Kassam reports from Barcelona, the election result could plunge Spain into one of its deepest political crises of recent years – even though it wasn't a formal vote on independence.
"We won," said Catalan leader Artur Mas i Gavarró, as a jubilant crowd waved estelada flags at a rally in Barcelona. "Today was a double victory – the yes side won, as did democracy."

After attempts by Catalan leaders to hold a referendum on independence were blocked by the central government in Madrid, Mas sought to turn the elections into a de facto referendum, pledging to begin the process of breaking away from Spain if Junts pel Sí won a majority of seats.

His party fell six seats short of a majority on Sunday. But Mas vowed to push forward with independence. "We ask that the world recognise the victory of Catalonia and the victory of the yes," he said. "We have won and that gives us an enormous strength to push this project forward."
Investors aren't panicking too much, though. Spanish sovereign debt remains calm this morning:
7.47am BST
Introduction: Catalan vote and Chinese growth fears
Good morning, and welcome to our rolling coverage of the world economy, the financial markets, the eurozone and business.
A new week begins with another bout of worries over the global economy, and a new political headache for Europe's leaders after Sunday's Catalan election.
A sharp drop in profits at China's factories, down almost 9%, has sparked more concern that its economy is slowing fast.
From Melbourne, Angus Nicholson of IG reports:
Chinese industrial profits data came in below consensus expectations and immediately spurred selling in Chinese and Japanese markets….

Chinese industrial profits prompted further concerns about the economy as they declined 8.8% from a year earlier. Mining, coal, oil & natural gas all continued to see profit declines between 40-68%.
And this leaves investors fretting that the world economy isn't able to support a rise in US interest rates, which could still come this year.
As Michael Hewson of CMC Markets explains:
With Fed officials seemingly intent on raising rates this year come what may, there is a fear that the Fed might be on the cusp of making a big mistake.

It still remains far from clear how weak or otherwise economic conditions in China are, with Nike's quarterly results showing some decent numbers in the China region, however concerns remain about the weakness of the manufacturing sector.
And in Spain, parties that support Catalonia's separation from the rest of Spain won control of the regional parliament at last night's election.
That's going to put more pressure on Madrid to consider a proper referendum on the issue, even though separatists didn't quite win a majority of the votes.
And there's no escape from the emissions scandal gripping Volkswagen. Over the weekend, German media claimed that the carmaker was warned in 2011 that it was cheating on emissions tests.
We'll be tracking all the main events through the day….
Updated at 8.02am BST
This article titled "Chinese growth fears hit markets, driving Glencore to new low – business live" was written by Graeme Wearden, for theguardian.com on Monday 28th September 2015 09.13 UTC