9.01am BST
European stock markets have risen in early trading, as investors resist the temptation to panic over China.
The FTSE 100 is up 46 points, or 0.75%, at 6163, reversing Friday's dip.
Trading floors are primarily concerned with Thursday's Federal Reserve meeting, and the possibility of interest rates being raised.
A hike seems unlikely in the current climate, with emerging markets such as China struggling.
Mike van Dulken of Accendo Markets explains:
As always, a decision on a US interest rate rise is expected to come down to the wire, but it's not the type of decision to be made either hastily or in the absence of majority consensus within the US Central Bank, and therefore a delay until at least the next meeting (October) seems probable (maybe even December).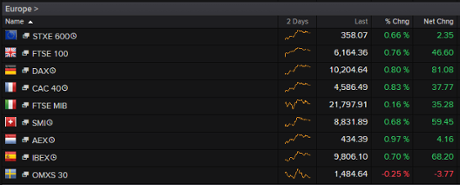 8.50am BST
The markets have woken up to another morning of woes over the China economy, says FXTM Research Analyst Lukman Otunuga.
Most market participants were already concerned about the slowing rate of growth in the world's second largest economy, and the annualised Industrial Production data failing to meet expectations will further concerns.

Not only was the figure at 6.1% lower than expected, but growth in fixed-asset investment is now reportedly at its weakest in 15 years. With such weakness being seen across large sections of the Chinese economy, the China markets are going to remain exposed to pressures and it is likely the government will remain on high alert to relieve pressures and induce stability in the domestic markets.

Although Premier Li Keqiang remains defiant that expectations of a 7% growth rate for China is achievable, the recent data from China has outlined nothing other than a deep economic downturn and there are already fears that the China data is much weaker than official statistics illustrate.
8.39am BST
Today's selloff was mild, compared to the drama of August.
But it has still pushed the Chinese stock market down towards an eight-month low: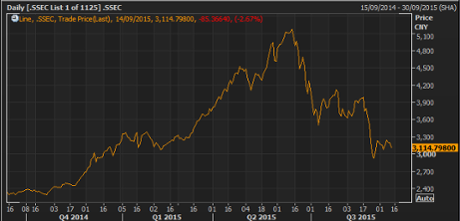 8.35am BST
Chinese markets post biggest fall since August 25th
China's stock markets have just posted their biggest falls since the last week of August, despite a late (and somewhat suspicious) rally.
The benchmark Shanghai Composite shed 2.7%, having been down 4% in late trading, as traders reacted to the slowdown in business investment, and subdued factory growth, in August.
This latest data follows a 13% tumble in imports last month, adding to concerns that the Chinese economy is softening fast.
Analysts at Mizuho Bank reckon the slowdown could encourage the US Federal Reserve to leave interest rates on hold this week:
"Further deceleration in investments and imports plunge remain worrying.

This ups the likelihood of more China stimulus, but dampens the Fed jumping the gun."
Updated at 8.45am BST
8.19am BST
Russia's largest port operator has just reported a sharp fall in profits and revenues, highlighting its weak econony.
Pre-tax profits at Global Ports halved in the first six months of 2015, as revenue shrank by 25%.
The company warned that consumer demand had been hit by Russia's "challenging" macro-economic backdrop; ie, people are buying less stuff because the country is in recession.
Tiemen Meester, chairman, added:
Looking ahead to the second half of the year, we expect that the market will remain difficult.
8.05am BST
Fears over China's economy, and the prospect of a US rate rise, have hit Japan's stock market too.
The Nikkei fell 1.6% by the close, amid small losses in Hong Kong and Seoul too.
7.54am BST
Last weekend's disappointing Chinese factory output and investment data have raised the pressure on Beijing to launch more stimulus measures.
There was one bright spot – retail sales beat forecasts with a 10.8% jump, suggesting some success in rebalancing the economy.
Angus Nicholson of IG says China is now exhibiting a "divergent two-speed economy, as consumption continues to do well while industrial production and investment slow."
He adds:
It is thought that factory shutdowns surrounding the World Athletics Championship and WWII commemoration may have affected output somewhat. Nonetheless, the data is still pretty disappointing considering there have been frequent statements by the government, plus expectations in the market that investment would start to pick up in the second half of the year.
7.42am BST
Weak Chinese data fuels slowdown fears
China's stock market is heading for its biggest loss in several weeks, after fresh, disappointing, economic data shows that the country's economy is slowing fast.
The Shanghai index has shed 4% in late trading today, in a new bout of angst. The market close in about 30 minutes.
The selloff is triggered by the news that China's factory output grew by just 6.1% year-on-year in August, below expectations of a 6.4% rise.
And fixed-asset investment, which tracks business spending on new machinery and plants, grew by 10.9%. That's the weakest rise since 2000.
Economists say that it shows the Chinese economy is weakening, putting the target of 7% growth this year at risk.
Updated at 8.40am BST
7.25am BST
Introduction: Fed meeting and Greek elections loom
Good morning, and welcome to our rolling coverage of the world economy, the financial markets, the eurozone and business.
It's going to be an exciting week. Economists and investors are already looking towards Thursday's Federal Reserve meeting, when America's interest rates could be raised for the first time since the crisis began.
On balance, the Fed is expected to sit tight again, given the recent ructions in the global economy, but no-one knows for sure.
Alastair Winter, chief economist at investment bank Daniel Stewart, argues that the time isn't right for a hike:
Were it not so serious, it would be funny that, having hitherto taken enormous risks with expansionary monetary policy that is clearly no longer working, the FOMC might go ahead and tighten just at the point when further delay could be justified.

The US economy may be more self-contained than most but it too is participating in the slowdown in global growth and deflationary pressures.
And once the Fed meeting is over, we get Sunday's Greek general election.
Tonight, former prime minister Alexis Tsipras of Syriza will debate the leader of the right-wing New Democracy party, Vangelis Meimarakis. Recent polling has shown the two parties neck-and-neck.
Having said that, there's not too much on the agenda today.
The only economic data of note is the latest eurozone industrial production survey, for July, at 10am BST. Economists predict monthly growth of 0.3%.
And Europe's stock markets are expected to rise by close to 1%, having lost ground on Friday.
I'll be tracking all the main events through the day…..
Updated at 7.29am BST
guardian.co.uk © Guardian News & Media Limited 2010
Published via the Guardian News Feed plugin for WordPress.