This article originally appeared on VICE Canada
.
Last fall, part of a mink farm in Sweden was mysteriously burned to the ground and police couldn't figure out why.
And while the crime remains unsolved by authorities, evidence appears to show an eco-fascist cell within The Base—an American neo-Nazi terror group under intense FBI investigation—is responsible for the arson.
Through confidential sources and online records, VICE believes the crime was allegedly committed by a teenage member of The Base living in Sweden, who first claimed the attack in a video on iFunny, a popular meme-sharing website.
When contacted by VICE, the eco-fascist cell that claimed responsibility for the fire said, "No comment."
The arson is new evidence of the international reach of The Base, whose leader is believed to be based in St. Petersburg, Russia, and its ability to covertly plot and carry out criminal acts outside of the United States.
"Eco-fascism" is an ideology experiencing a revival among the far-right, which blames the demise of the environment on overpopulation, immigration, and over-industrialization, problems that followers think could be partly remedied through the mass murder of refugees in Western countries. For example, the Christchurch shooter declared himself an "eco-fascist" in his infamous manifesto.
Police in Sölvesborg, a city near the south coast of Sweden where the arson took place, told VICE they believe the fire was intentionally set, but closed the case after not finding any leads
"We think this (fire) was started by someone because there was no electricity or something like that in the building," said Robert Loeffel, the press secretary for the Swedish Police Authority in the region. "But we don't know who did it."
Loeffel said police and firefighters were first called to the mink farm in the late evening on October 30, 2019.

"The fire was all over the farm," he said. "(The firefighters) worked to take the fire down and we started an investigation at how this started. There were no animals in the building when it started. It was an empty building."
The owner of the farm, who requested anonymity out of fear of retribution, confirmed to VICE an arson occurred on part of his property in October, but said he couldn't guarantee the farm was the same one in the video posted on iFunny.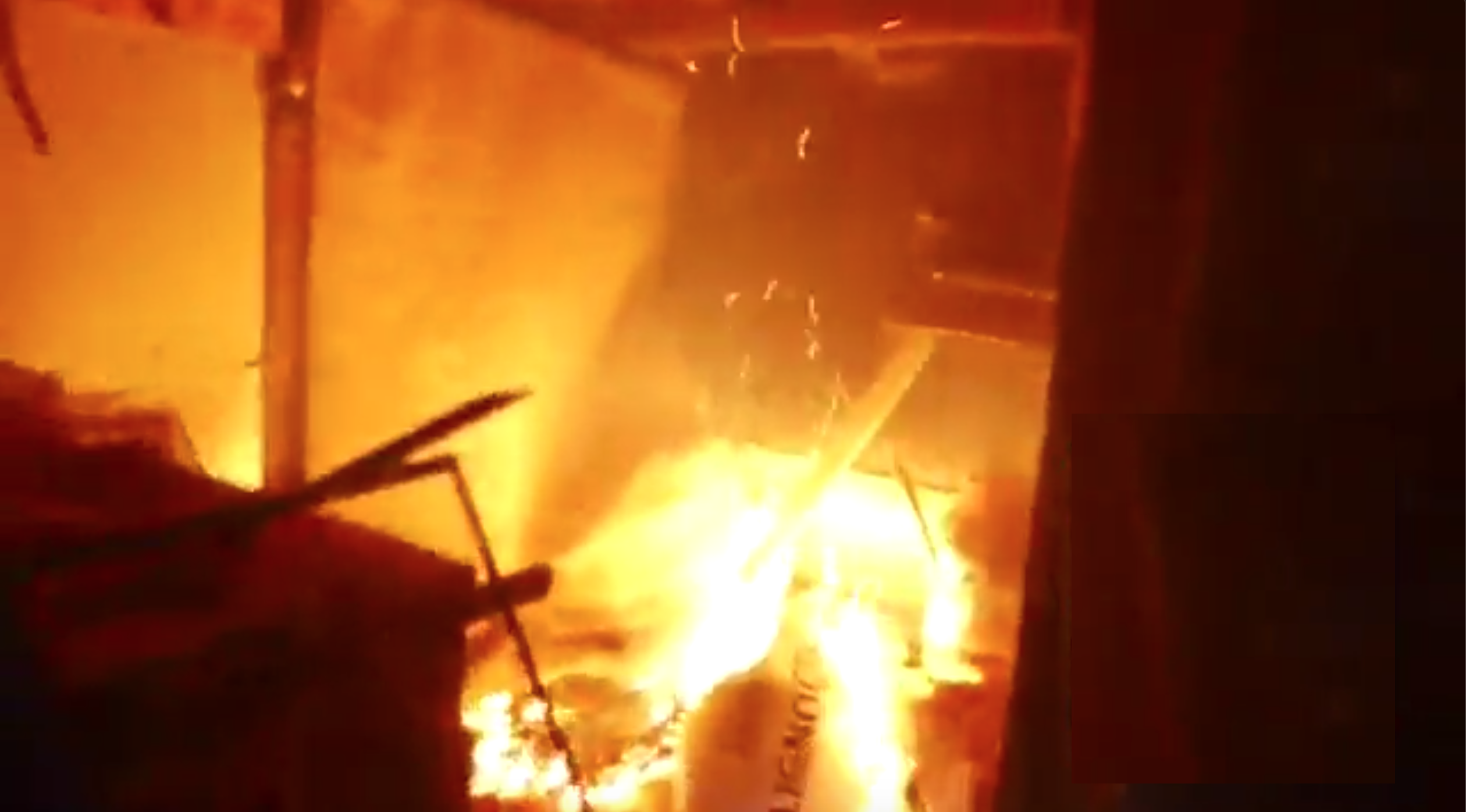 A screenshot from the video of the alleged arson showing the brand of sawdust.
He told VICE the brand of sawdust the farm uses to treat mink skins was the same as the bag seen burning in the video.
"The ceiling is the same (as the barn). You see the bag there where they start burning… that's sawdust; we use it to dry the skins from the minks," he said. "The building was full of that in this kind of plastic bag—it's the company we buy them from."