5.52am BST
That's all for now. Check back shortly for a full fight report. Thanks for following along with us.
5.51am BST
Here's are the official judges' scorecards. Steve Weisfeld scored it 118-110, David Moretti had it 117-111 and Adalaide Byrd a 120-108 shutout, all to Mayweather.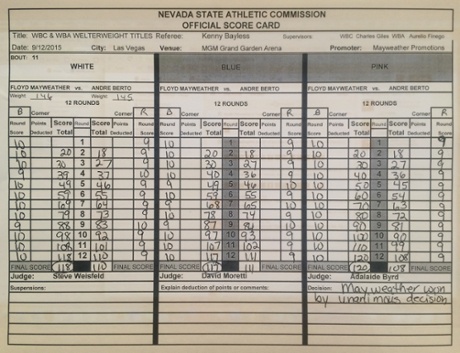 5.43am BST
The final punch stats square with what we saw in the ring. Mayweather landed 232 of 410 punches (57%) including 83 of 191 jabs (43%) and 149 of 219 power punches (68%). Berto landed 83 of 495 punches (17%), including 39 of 301 jabs (13%) and 44 of 194 power punches (23%).
5.37am BST
"I want to thank god for this victory," Mayweather says. "I want to thank all the fans who came out to support this event."
More from Mayweather's in-ring interview with Showtime's Jim Gray:
"It doesn't matter what was said. Just trash talking. I'm used to doing trash talking at the Mayweather Boxing Club."
"Andre Berto has heart, a tremendous chin. He wouldn't lay down. It was a good fight."
"It wouldn't matter if I hurt my left hand or my right hand. My career is over. It's official."
"Experience played a major role tonight. He's a very athletic boxer."
"You got to know when to hang it up. I'm knocking at the door now. I'm close to 40 years. Been in the sport 19 years, been a world champion for 18 years."
5.32am BST
Floyd Mayweather wins by unanimous decision!
The official scores are 117-111, 118-110 and 120-108.
5.28am BST
Round 12
Mayweather loath to engage with the victory in hand and hearing it from the crowd. Berto deploying the same game plan as in round one. A breathtaking lack of in-ring adjustment. Floyd now opening up big time, throwing a flurry of power punches and looking to put Berto down. But only one maybe two land cleanly. A big uppercut by Floyd lands but not quite flush. Mayweather dancing away during the last few seconds. Now waiting on the judges' scorecards but the official announcement is merely a formality. 49-0.
Guardian's unofficial score: Mayweather 10-9 Berto (Mayweather 120-108 Berto)
5.25am BST
Round 11
Mayweather opening up a bit. A right hook, then a hard right uppercut. Still moving about the ring as quickly as he was during the first. Remarkable conditioning for a man nearing 40. Just remarkable. Berto leaning into Mayweather on the ropes but hard to tell if he's trying the bullying tactics that haven't worked since the first round or just conserving energy. Mayweather looks utterly bored. Now just dancing and playing to the crowd. Clowning Berto. Makes him miss so badly that Berto momentarily loses sight of him. Roars from the crowd. This is embarrassing.
Guardian's unofficial score: Mayweather 10-9 Berto (Mayweather 110-99 Berto)
5.21am BST
Round 10
Berto has thrown 10 punches early in the round but Mayweather, gliding effortlessly, has evaded all of them. Slippery as ever. Now Floyd as saying something to Berto as he moves backwards. Bayless calls time and tells both fighters to cut out the trash talk. Time in. Berto misses three left jabs in succession and gets clocked flush on the chin with a right for his trouble. Mayweather loads up on a left hook and misses. I'm told Mayweather stuck his tongue out at Berto's family during a clinch.
Guardian's unofficial score: Mayweather 10-9 Berto (Mayweather 100-90 Berto)
5.16am BST
Round 9
Berto still pursuing. Chants of "T-B-E! T-B-E!" Also scattered boos. Fighters in a clinch in the corner. A left-right to the body by Berto but then he misses wildly upstairs. Two thudding body shots by Mayweather with his back against the ropes. He's landing the harder, more effective blows. Has been all night. Now they're exchanging punches in the middle of the ring as the crowd rises to their feet, but it's Mayweather who lands three while Berto lands … one? Maybe?
Guardian's unofficial score: Mayweather 10-9 Berto (Mayweather 90-81 Berto)
5.12am BST
Round 8
Mayweather with a stinging uppercut that draws oohs from the crowd. Nice left by the challenger but Floyd spins off the ropes and connects with a flurry of punches to the head of a confused-looking Berto. Berto bullying Mayweather up against the ropes again, but Floyd has ceded that ground all night knowing Berto doesn't know what to do with it. Floyd now dancing out of the way of Berto's punches with his hands at his waist. Jab, jab. Balletic footwork. Lord, he's good.
Guardian's unofficial score: Mayweather 10-9 Berto (Mayweather 80-72 Berto)
5.08am BST
Round 7
Berto with a right-left combination to the body with Mayweather up against the ropes. Floyd wrapping him up with both fighters throwing out of the clinch. Mayweather lands a jab squarely on Berto's nose. No crowd reaction but that one hurt. Berto still chasing, still trying, but no apparent game plan. Missing a ton. More hugging in the neutral corner. Mayweather looking very comfortable, Berto looking tired. Good right counter by Berto right before the bell. That was Berto's best round but … another for Mayweather.
Guardian's unofficial score: Mayweather 10-9 Berto (Mayweather 70-63 Berto)
5.04am BST
Round 6
Floyd opening up here, letting his hands go. Left hook, right hook, uppercut – a combination to the body. Berto still chasing, walking right into trap after trap. Mayweather just countering brilliantly. Berto right at the end of the round with five unanswered punches, swinging wildly, one or two of which even land. Not enough, not by a longshot. Big round for Floyd.
Guardian's unofficial score: Mayweather 10-9 Berto (Mayweather 60-54 Berto)
5.00am BST
Round 5
Berto connects with a right uppercut in a clinch. He's try to bully Floyd a bit more here but with no success. Now Berto throws a low blow and is warned by Bayless. Berto looking determined still at a point where far too many previous Mayweather opponents have given up, but trying only counts for so much. One, two, three left jabs by Floyd. More hugging. Another one for Floyd, easy. Not sure what fight this guy is watching.
Guardian's unofficial score: Mayweather 10-9 Berto (Mayweather 50-45 Berto)
4.56am BST
Round 4
More of the same. Berto lands a one-two comboination upstairs that doesn't seem to faze Mayweather (thought surely he felt it), but moments later Mayweather bounces off the ropes to land a combo of his own. A big right by Mayweather to the temple and Berto was wobbled. Now the challenger is coming back, landing two left jabs upstairs, but far from enough. Worst of all Berto looks a bit gassed already. This is every bit the mismatch we all expected.
Guardian's unofficial score: Mayweather 10-9 Berto (Mayweather 40-36 Berto)
4.52am BST
Round 3
Floyd throws a hard right with bad intentions just after the bell rings and it lands but not flush. For some reason Berto trying to outbox Mayweather. Bad idea. Berto warned for using forearm to face. Berto loads up on a shot, mostly misses and Floyd nearly touches his glove to canvas while slipping away. The crowd oohs and aahs at what would have been a knockdown but Bayless emphatically waves it off. More of the same.
Guardian's unofficial score: Mayweather 10-9 Berto (Mayweather 30-27 Berto)
4.48am BST
Round 2
Berto tries to bully Floyd along the ropes but Floyd pirouettes away easily. They're wrapped up again with Mayweather hitting Berto with rib shots. Berto having trouble cutting off the ring (like everyone else). Quick left jab by Floyd upstairs. Berto just jabbing. And missing. What's Plan B? One, two, three quick jabs by Mayweather to Berto's face, followed by a left hook that connects with a thud. Mayweather more aggressive than normal, no doubt emboldened by Berto missing almost everything he throws.
Guardian's unofficial score: Mayweather 10-9 Berto (Mayweather 20-18 Berto)
4.44am BST
Round 1
Berto with a few quick left jabs to start but none that land. Mayweather looks quick as ever, slippery. Mayweather with a left to the body, then a hard right upstairs that bounces off Berto's glove. Mayweather moving back and to the left. Another left jab downstairs by Mayweather. Floyd then wraps Berto up and throws a few shots to the body before Bayless breaks them up. Shadowboxing in Floyd's corner now, no punches landing. Left hook by Floyd lands to the head behind Berto's guard. Berto looks very tense.
Guardian's unofficial score: Mayweather 10-9 Berto (Mayweather 10-9 Berto)
4.40am BST
Referee Kenny Bayless giving final instructions. We'll pick it up with round by round reports after the opening bell.
4.37am BST
Jimmy Lennon Jr doing the ring introductions. Berto first, then Mayweather. Fans on their feet, camera phones whizzing.
4.34am BST
Now here comes Mayweather, in patterned black vest and grey TMT hat. Ringwalk song: Floyd Money Mayweather by Dizzy Wright.
4.30am BST
Berto is making his way to the ring wearing a white robe with silver trim. Ringwalk song: Never Gon Lose by DJ Esco & Future.
4.28am BST
Anthem time. First up it's Wyclef Jean with sister Milky to sing the national anthem of Haiti. Then for The Star-Spangled Banner it's Grammy-nominated recording artist Victoria Monet.
4.25am BST
Section 213 is all but full with rows of children who have been chanting Mayweather's name incessantly for the past 10 minutes. Perhaps giveaways to help fill the arena? Meanwhile ring announcer Jimmy Lennon Jr is standing in the center of the ring flanked by the Tecate girls waiting for his cue.
In the final prelim bout Rocky Martinez retained his WBO junior lightweight title by a split draw with Orlando Salido. Scores of 115-113, 115-113 and 114-114. Martinez connected with 189 of 691 punches (29%), compared to 285 of 1,037 for Salido (27%).
4.09am BST
We're entering the 11th round of Martinez- Salido, meaning we're probably a half hour away from the opening bell of Mayweather-Berto. The room has filled up somewhat, though the patches of empty seats in the lower level are conspicuous.
3.34am BST
Here's a look at the odds from the MGM Grand sports book. Mayweather is down to a -3000 favorite, meaning you'd need to wager $3,000 on Floyd in order to win $100. So, er, it's safe to say the bookmakers are confident he'll pull through tonight. Alternatively, Berto is a +1000 underdog, meaning a $100 bet would pay off $1,000 if he wins. These odds are accurate as of this afternoon and will likely shift due to late action. Will share the final odds when they're communicated to us along press row.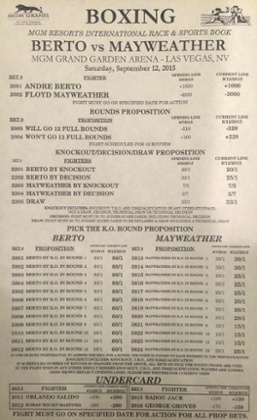 3.21am BST
Let's hear your predictions for tonight's main event. Send them along via Twitter or email ([email protected]). Be as descriptive as you can. Winner gets a Mayweather-Berto shirt. In the event of a tie I'll award it to the first correct response. Or the funniest.
3.16am BST
Welcome to ringside at the MGM Grand Garden Arena for tonight's world welterweight title fight between Floyd Mayweather and Andre Berto. Tonight marks Mayweather's first outing since his famous if underwhelming points victory over Manny Pacquiao in May.
The final undercard fight is about to begin: the rematch between Rocky Martinez and Orlando Salido for the WBO junior lightweight championship that Martinez won from Salido in April.
We'll pass along some odds and ends between now and the main event. Here's a look at the preliminary results that are already in the books.
Badou Jack SD 12 George Groves (12 rounds, for Jack's WBC super middleweight title)
Jonathan Oquendo MD 10 Jhonny Gonzalez (10 rounds, super featherweights)
Sanjarbek Rakhmanov UD 6 Farkhad Sharipov (six rounds, junior welterweights)
Vanes Martirosyan MD 10 Ishe Smith (10 rounds, middleweights)
Chris Pearson TKO 7 Janks Trotter (10 rounds, middleweights)
Ronald Gavril TKO 8 Scott Sigmon (10 rounds, super middleweights)
Gervonta Davis TKO 1 Recky Dulay (eight rounds, lightweights)
Ashley Theophane UD 10 Steve Upsher (10 rounds, junior welterweights)
Trakwon Pettis TKO 1 Devante Seay (four rounds, super lightweights)
Updated at 3.35am BST
12.14am BST
Bryan will be here shortly. In the meantime here's his lookahead to tonight's main event.
[I]t came as little surprise when the MGM Grand sports book installed Mayweather as a 1-50 favourite; for comparison, in 1990 Buster Douglas was 42-1 against when he beat Mike Tyson. Mayweather's price has since been slashed to 1-30. It runs counter to the hard-won reputation of Mayweather, who is always prepared and has never shown a dip in form throughout a preposterous 19-year championship reign, to think Berto has anything but the proverbial puncher's chance.

Yet to his credit, the challenger believes that's what he will deliver in what surely would rate among the biggest upsets in boxing history – if not the biggest of all."He has a great IQ," Berto said this week, "but one shot can change it all."
This article titled "Floyd Mayweather v Andre Berto – as it happened" was written by Bryan Armen Graham in Las Vegas, for theguardian.com on Sunday 13th September 2015 04.52 UTC