COLUMBIA, South Carolina — With Andrew Yang out of the presidential race, there's been a dire shortage of chaotic energy on the campaign trail, but Friday night Tom Steyer might have backed his ass right into that role — and into history.
I've seen Yang staff throw fake $1,000 bills to the crowd as the candidate joined Weezer's Rivers Cuomo for a rendition of "Say It Ain't So." I've seen the Strokes' Julian Casablancas sing "New York City cops, but they ain't too smart," directly into the face of a police officer at a rally for Sen. Bernie Sanders. But nothing could prepare me for this.
By now you've probably seen the video of the billionaire businessman, who's polling in third place in Saturday's South Carolina primary, twerking next to his wife and daughter with rapper Juvenile on stage in front of a historically black university crowd. In case you haven't: Thank me later.
What you don't know is that this was just the cathartic climax of the most bonkers political rally of the 2020 cycle, if not ever — outdone only by the fact that minutes later Steyer's staff corralled the press to watch Juvenile deliver his first ever presidential endorsement.

"I just want to give a big shout-out to my dawg Tom Steyer."
"I just want to give a big shout-out to my dawg Tom Steyer," Juvenile told reporters after the event. "He's been representing my people from Day One. I've been watching him and his philanthropy."
"I'm with you on your journey. Whatever you need from me, I'm there for you," the "Back That Azz Up" rapper said. "Tom Steyer for president! Go out there and vote! Back that thing up and vote!"
Steyer's rally was just one of several campaign events candidates have been holding across the Palmetto State with high-profile African American surrogates to bring visibility to their campaigns in a state where more than 60% of all Democratic voters are black.
John Legend performed two gigs for Sen. Elizabeth Warren, for instance. Actress Vivica A. Fox stumped for Joe Biden.e Sanders had rapper Killer Mike of Run the Jewels and actor Danny Glover at a rally that was opened by the Austin-based hip-hop duo Blackillac. Miss Black America 2018 Ryann Richardson spoke on behalf of former South Bend, Indiana, Mayor Pete Buttigieg.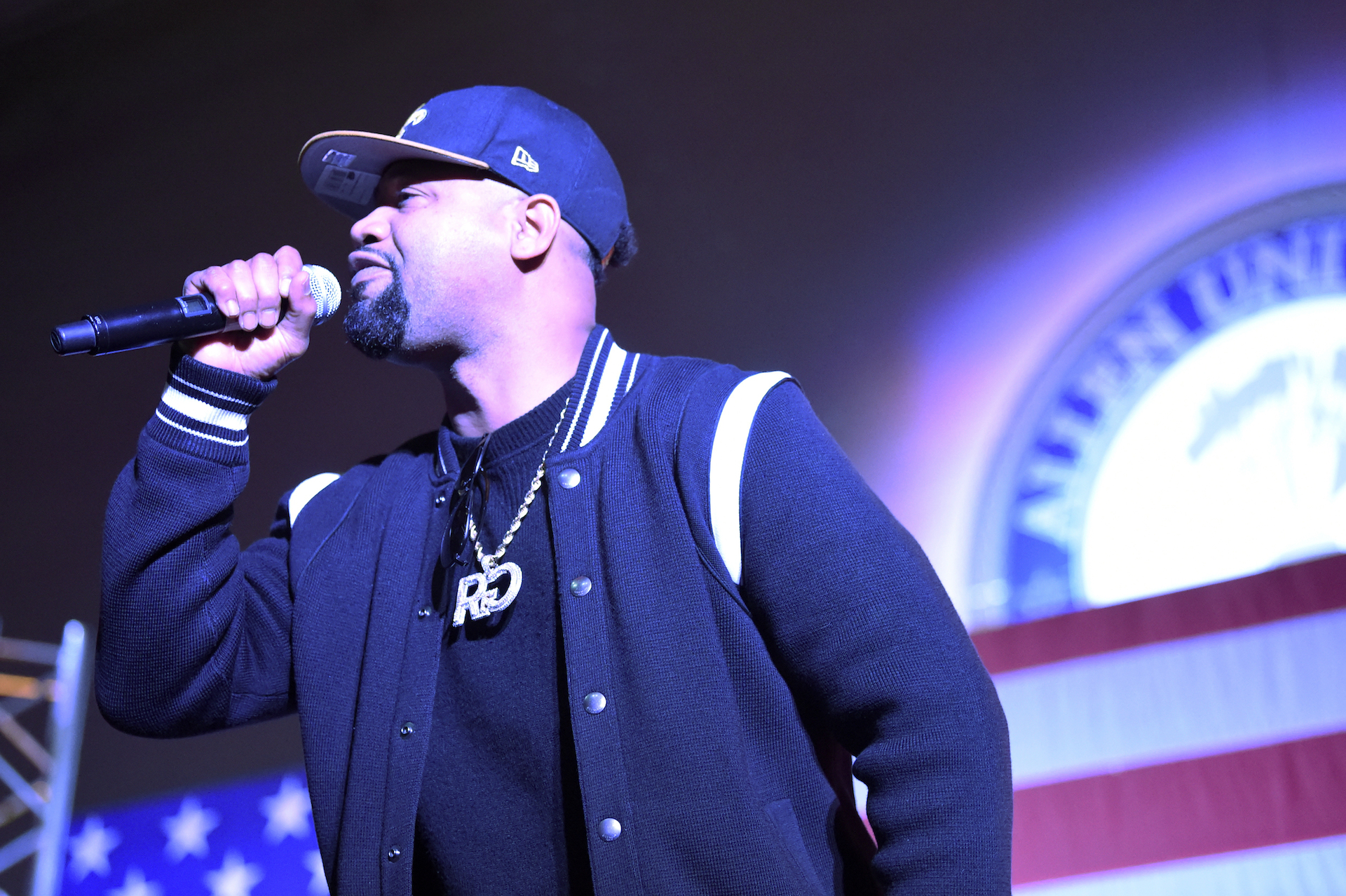 Rapper Juvenile performs at an election-eve rally for Democrat Tom Steyer the night before the South Carolina presidential primary on Friday, Feb. 28, 2020, in Columbia, S.C. (AP Photo/Meg Kinnard)
The difference is, all of the above people have been longtime supporters of their candidate. Only Steyer pulled the unconventional move of hiring the hype.
Just to be clear: Yes, Steyer paid Juvenile to perform. But a campaign spokesman says the endorsement was unplanned — up until the moment before it happened when, as press crowded around, a woman whispered in Juvenile's ear the points he should hit in endorsing Steyer: his philanthropy, his environmental work, etc.
"It's time for a big old change," Steyer responded. "Coming here, what I've found is there's the heart and the spirit to change South Carolina and the entire United States."
READ: Democrats are freaking out Bernie Sanders could cost them the House