Here's Tom Steyer Twerking With Juvenile Because 2020 Hasn't Been Weird Enough
COLUMBIA, South Carolina — With Andrew Yang out of the presidential race, there's been a dire shortage of chaotic energy on the campaign trail, but Friday night Tom Steyer might have backed his ass right into that role — and into history. I've seen Yang staff throw fake $1,000 bills to the crowd as the…
COLUMBIA, South Carolina — With Andrew Yang out of the presidential race, there's been a dire shortage of chaotic energy on the campaign trail, but Friday night Tom Steyer might have backed his ass right into that role — and into history.
I've seen Yang staff throw fake $1,000 bills to the crowd as the candidate joined Weezer's Rivers Cuomo for a rendition of "Say It Ain't So." I've seen the Strokes' Julian Casablancas sing "New York City cops, but they ain't too smart," directly into the face of a police officer at a rally for Sen. Bernie Sanders. But nothing could prepare me for this.
By now you've probably seen the video of the billionaire businessman, who's polling in third place in Saturday's South Carolina primary, twerking next to his wife and daughter with rapper Juvenile on stage in front of a historically black university crowd. In case you haven't: Thank me later.
What you don't know is that this was just the cathartic climax of the most bonkers political rally of the 2020 cycle, if not ever — outdone only by the fact that minutes later Steyer's staff corralled the press to watch Juvenile deliver his first ever presidential endorsement.

"I just want to give a big shout-out to my dawg Tom Steyer."
"I just want to give a big shout-out to my dawg Tom Steyer," Juvenile told reporters after the event. "He's been representing my people from Day One. I've been watching him and his philanthropy."
"I'm with you on your journey. Whatever you need from me, I'm there for you," the "Back That Azz Up" rapper said. "Tom Steyer for president! Go out there and vote! Back that thing up and vote!"
Steyer's rally was just one of several campaign events candidates have been holding across the Palmetto State with high-profile African American surrogates to bring visibility to their campaigns in a state where more than 60% of all Democratic voters are black.
John Legend performed two gigs for Sen. Elizabeth Warren, for instance. Actress Vivica A. Fox stumped for Joe Biden.e Sanders had rapper Killer Mike of Run the Jewels and actor Danny Glover at a rally that was opened by the Austin-based hip-hop duo Blackillac. Miss Black America 2018 Ryann Richardson spoke on behalf of former South Bend, Indiana, Mayor Pete Buttigieg.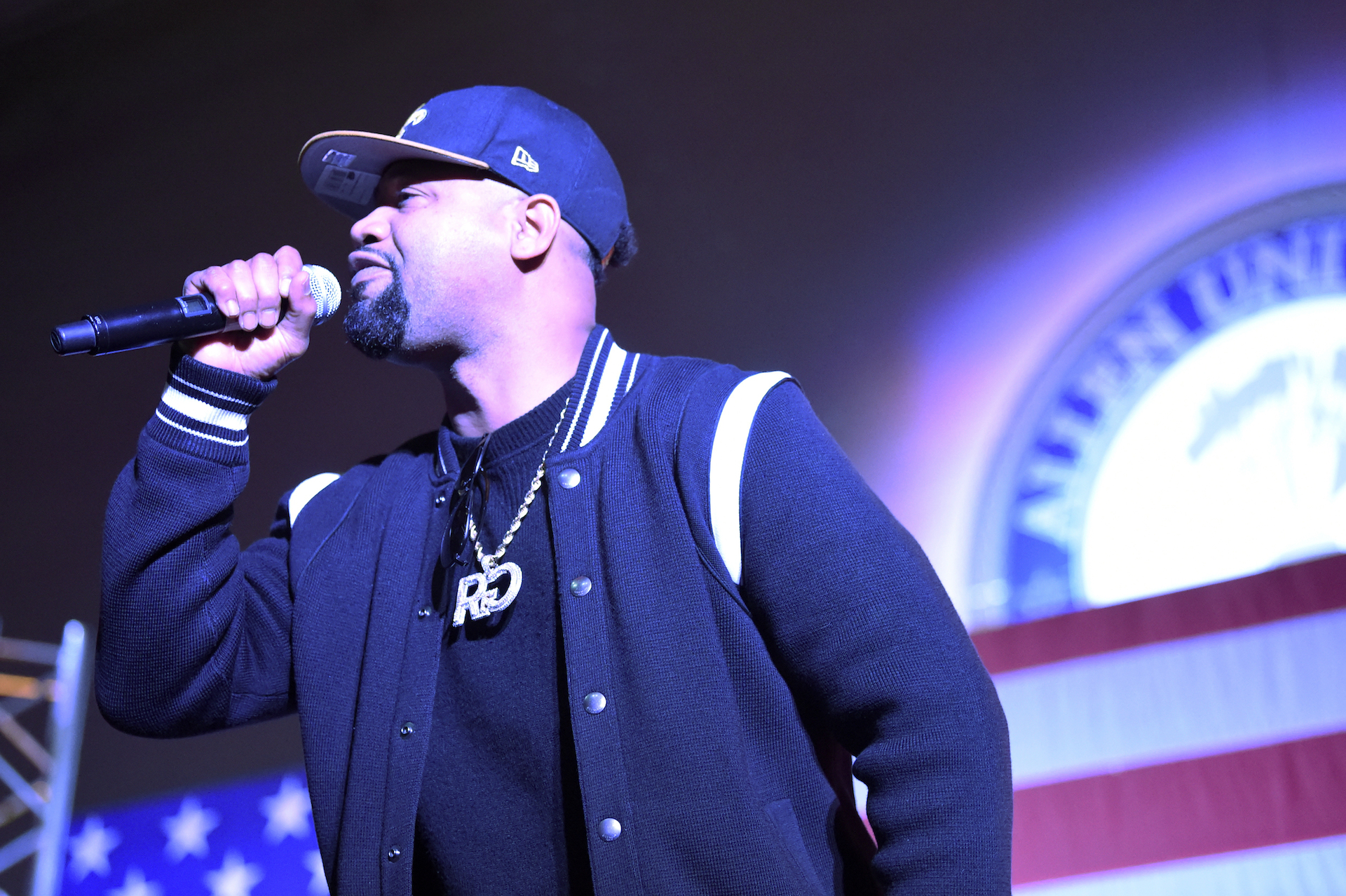 Rapper Juvenile performs at an election-eve rally for Democrat Tom Steyer the night before the South Carolina presidential primary on Friday, Feb. 28, 2020, in Columbia, S.C. (AP Photo/Meg Kinnard)
The difference is, all of the above people have been longtime supporters of their candidate. Only Steyer pulled the unconventional move of hiring the hype.
Just to be clear: Yes, Steyer paid Juvenile to perform. But a campaign spokesman says the endorsement was unplanned — up until the moment before it happened when, as press crowded around, a woman whispered in Juvenile's ear the points he should hit in endorsing Steyer: his philanthropy, his environmental work, etc.
"It's time for a big old change," Steyer responded. "Coming here, what I've found is there's the heart and the spirit to change South Carolina and the entire United States."
READ: Democrats are freaking out Bernie Sanders could cost them the House
In retrospect, it was probably a sign that things would be weird when two guys walking up to the rally were talking about how they could get 1,000 Twitter followers so they could get paid to promote former New York City Mayor Michael Bloomberg's presidential campaign online.
If Bloomberg is buying clout with memes, Steyer is doing it the old-fashioned way: by throwing music festivals. In Las Vegas ahead of the Nevada caucuses, he had TLC and Iconapop. But the roughly 200 people who showed up to the rally at Columbia's Allen University were really treated to something special.
The rally had everything: A twerking billionaire, a Cash Money Millionaires rapper, gospel singer Yolanda Adams, brisket, crippling technical problems, an America's Next Top Model contestant, the Obama-era "Fired Up, Ready to Go" lady, DJ Jazzy Jeff, and a singing first lady hopeful.
Kicking off the night, Greenwood County councilwoman Edith S. Childs, better known as President Barack Obama's "Fired Up, Ready to Go" lady, led the crowd in a minutes-long song/chant. She's endorsed Steyer now, and reprised her famous 2008 chant that came to define the Obama campaign to, "Steyered Up, Trump's Gotta Go."

Then former America's Next Top Model contestant Bianca Chardei, who was MCing the evening, introduced Juvenile. But the sound was way off, so after plodding through a few songs and yelling at the increasingly frustrated sound guy a lot, Juvenile did an a cappella version of his 1998 hit "HA" and left the stage, promising to come back later when the sound issues were worked out.
Following him, Yolanda Adams performed. The crowd was imploring her to play some of the hits, but she said she'd only sing the two songs she was asked to sing: "The Star Spangled Banner" & 2001's "Never Give Up." Gospel, a Steyer staffer relayed, is pretty much all the candidate listens to.
Next up, on a stage across the room, Steyer's daughter Evi introduced her mother, Kat Taylor, who has moved to South Carolina to promote the campaign. Taylor regaled the crowd with what she called a "small act of bravery, vulnerability, and joy:" a little ditty read from her iPhone about how, "oooh oooh, oooh oooh, you deserve a guy like this."
Steyer spoke next, which was pretty uneventful except for the time the flustered sound guy cut him off by randomly playing his walk on music a few seconds into his speech. As Steyer finished up and took selfies with concert-goers on one side of the room, DJ Jazzy Jeff performed a scorching set, including everything from Cardi B's "I Like It" to his own "The Fresh Prince of Bel-Air."
Finally, Juvenile triumphantly returned and Steyer performed the twerk heard round the world.
"Was that fun or what?" Steyer yelled to the crowd before leaving the stage.
Yes, Tom Steyer. It was. It sure was.
Cover: Billionaire Tom Steyer confirming his bro status with rapper Juvenile before a paid performance (and endorsement!) in Columbia, South Carolina, Feb. 28, 2020. (Photo: Daniel Newhauser/VICE News)

Federal judge rules Cuccinelli appointment unlawful
Because Cuccinelli's USCIS position was designated initially as "first assistant" to the USCIS director, the Trump administration reasoned that Cuccinelli could become acting chief under a provision of the 1998 Federal Vacancies Reform Act. But Moss wrote th…
Because Cuccinelli's USCIS position was designated initially as "first assistant" to the USCIS director, the Trump administration reasoned that Cuccinelli could become acting chief under a provision of the 1998 Federal Vacancies Reform Act.
But Moss wrote th…
Continue Reading…
The fighter pilot takes on the astronaut: McSally's 2020 Arizona mission
In Gilbert, a town of more than 200,000 people outside Phoenix, McSally satdown to talk local issues with the mayor outside a bustling coffee shop in the mild winter warmth before taking a walking tour of the small downtown, hitting up a few local spots to ha…
In Gilbert, a town of more than 200,000 people outside Phoenix, McSally satdown to talk local issues with the mayor outside a bustling coffee shop in the mild winter warmth before taking a walking tour of the small downtown, hitting up a few local spots to ha…
Continue Reading…
Italy Set to Approve $442 Million Loan to Keep Alitalia Flying
Italy Set to Approve $442 Million Loan to Keep Alitalia Flying