CUCUTA, Colombia — After Lisandro Sanchez fled Venezuela, he walked for a year all over Colombia in search of stable work and housing for his family. But he never found it; there were too many people like him.
So he ended up in a makeshift settlement on the outskirts of this Colombian border city, living with his wife and two daughters in a shack alongside hundreds of other migrant families.
They are among the nearly 5 million Venezuelans who've left their crumbling home country in search of some means to survive. But they're barely even doing that in a country struggling economically itself, and already overwhelmed by Venezuelan migration.
"Every day is like weathering blows," Sanchez said, sitting at his kitchen table. He explained how he built the two-room shack his family lives in: He found tin for two walls in some rubble, saved up for a tarp for the bedroom. A neighbor donated the roof, and Sanchez borrowed a machete to cut the wooden posts that held the whole thing up.
"I scavenged scraps at the market to give a life to my wife and kids," he said, hanging his head. His shack overlooks rolling desert hills covered in homes like his own.
This settlement, named Alfonso Gomez, is one of countless similar others growing on the fringes of Colombian cities as destitute Venezuelans continue to flee their spiraling homeland.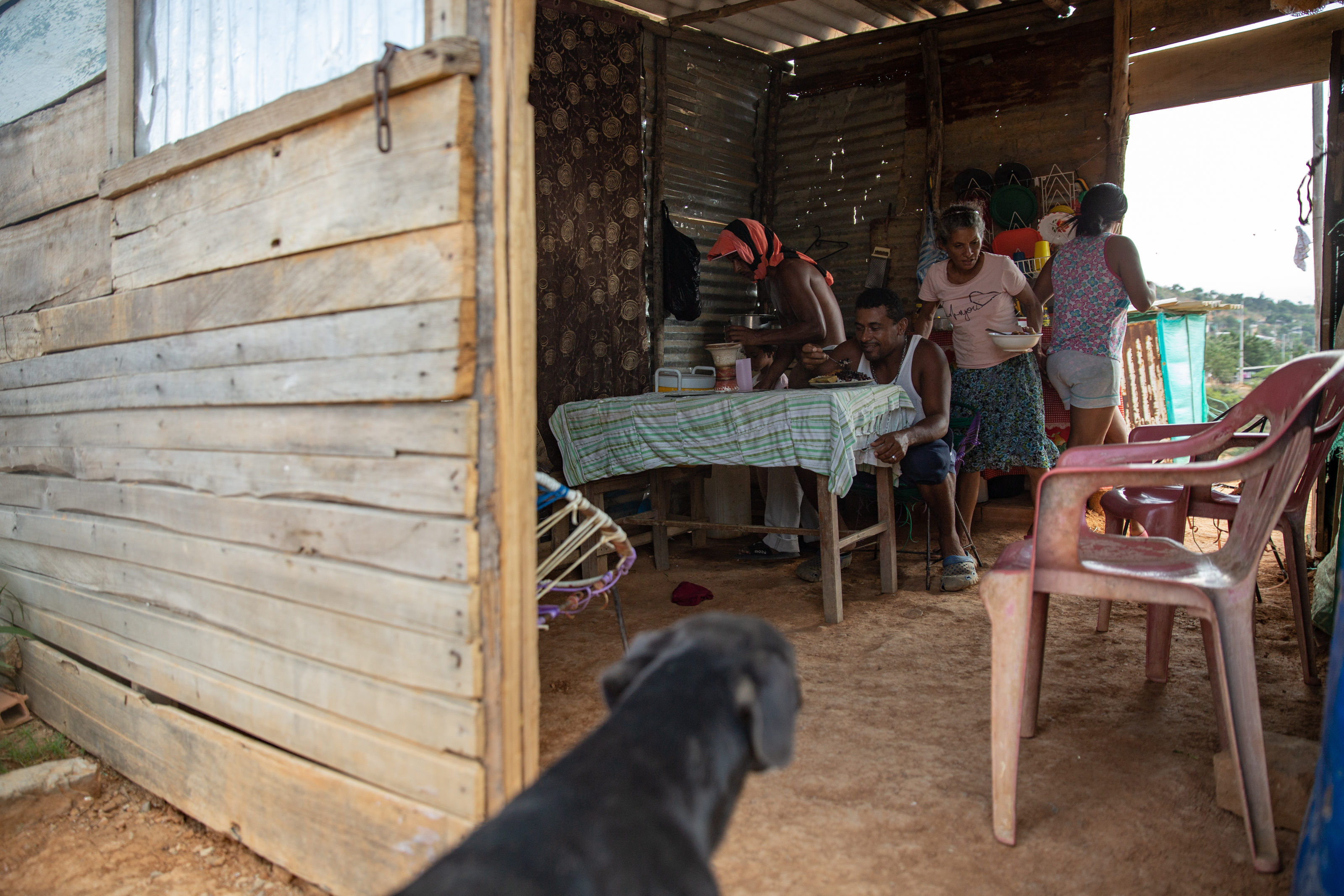 Lisandro Sanchez and his family prepare to eat lunch while their dog waits for scraps by the door. (Photo: Pu Ying Huang/VICE News)
This year puts Venezuela on track to rival Syria as the world's largest contemporary mass migration. A collapsed currency and economy has turned the once-wealthy South American nation into a place of food shortages with shuttered hospitals and schools, where organized crime dominates daily life.

Yet Venezuela's disaster has drawn just a fraction of the humanitarian funding seen for similar exoduses in the Middle East. Colombia, which shares 1,000 miles of border with Venezuela and hosts nearly 2 million Venezuelans, has been left mostly alone to bear the brunt of this disaster, even while other South American nations close their doors.
But Colombia has slim capacity to absorb the huge population. Here, unemployment already sits above 11% as the country recovers from a decades-long civil war. Lacking robust international funding to address the Venezuelan migration, Colombia has tried hard to avoid setting up long-term refugee camps like those in Africa and the Middle East.
But with no international efforts to build sprawling tent cities, the Venezuelans have built plenty of their own shelter.
"These zones have been the places most impacted by the arrival of families," said Yalila Orejuela, a planning department director at Cucuta's city hall, pointing to a satellite map of the city and dragging her fingers around a patch of brushy hills about two miles northwest of the city center where the shiny tin roofs of crude shelters cluster around haphazard paths. "There are many settlements that we don't have identified."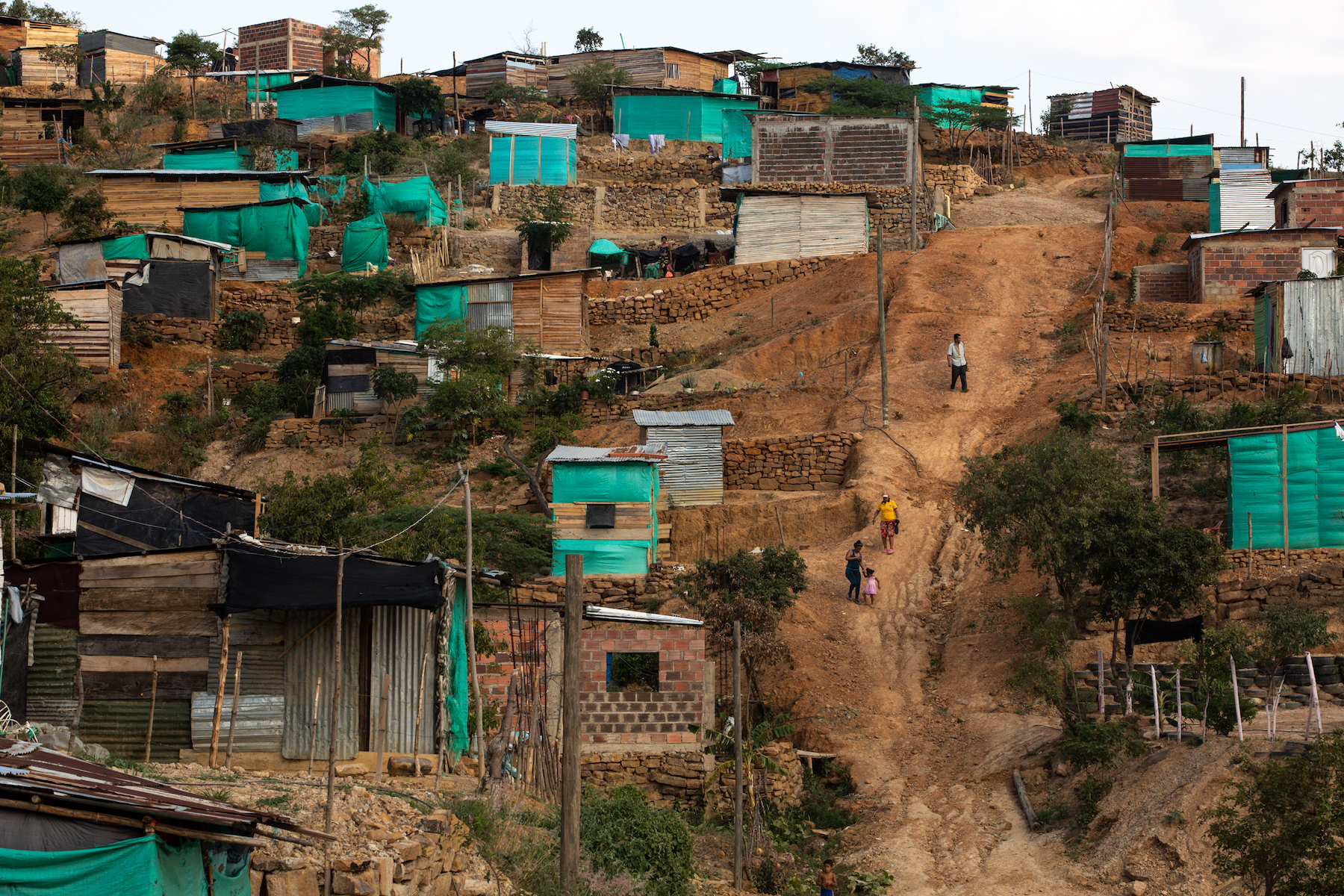 Residents of Alfonso Gomez make their way downhill on one of the main roads through the settlement. (Photo: Pu Ying Huang/VICE News)
This is nothing new for Colombia or for Cucuta, Orejuela explained. Here, decades of war in the countryside between the state and a leftist insurgency, the Revolutionary Armed Forces of Colombia (FARC), have long forced refugees to build settlements on the city's edge. But the war ended, for the most part, with a historic peace treaty in 2016. Colombia expected to move beyond this type of development, which leaves kids out of school and communities vulnerable to criminal groups that prosper in the disorder.
Orejuela visited Alfonso Gomez two years ago when the settlement first broke ground, but two men asked her to leave, and she obliged.
Rosalba Carvajal, 41, remembers what it was like back then. She flew with her husband and two kids from Maraciabo, Venezuela. They used their savings to rent a room in town, but they couldn't find work and quickly ran out of money. They were desperate, and Carvajal heard from a friend that some Venezuelans had claimed space outside the city for a settlement. She came here and found steep, wild hills crawling with snakes and lizards.
She and her husband staked out a small plot and for one month dug with sticks into the hillside to create a small area of flat land, where they made a home from sticks they cut, a green plastic tarp, and a metal roof donated by a neighbor.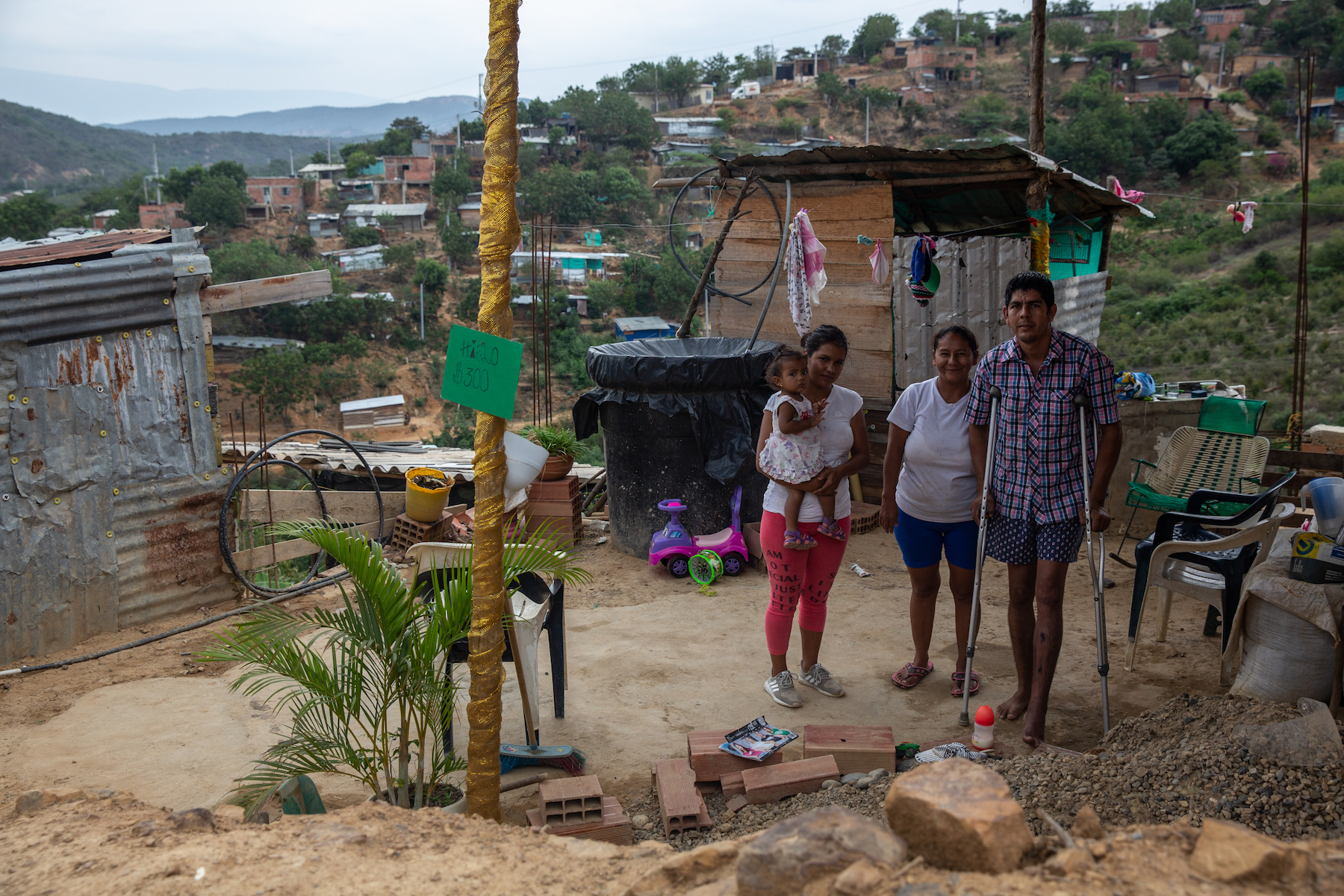 Rosalba Carvajal, center, and her family stand for a portrait outside their home. (Photo: Pu Ying Huang/VICE News)
"When we first got here, it was scary," she said, sitting on a bucket outside her shack. Then she hesitated, and glanced back to where the leader of this community, 45-year-old Sonia Pimento, sat smoking a cigarette in the shade.
"Go ahead and speak clearly; he already knows," Pimento told her.
Carvajal turned back. "There was a group of guys who ran things in the area," she said.
Later, walking a steep, rocky path through the settlement, Pimento explained: Those guys were the founders. Their leader was a young Venezuelan man named Angel. She didn't know his last name. He appointed her leader here. She teared up recalling him.
Two years ago, it was Angel who led hopeless Venezuelan families into these woods to build homes. He told them to work quickly before they were caught. He defended them from everyone who tried to kick them out. He defended them from the owner of the land. When people approached who he didn't want, he and his guys would fire their guns in the air.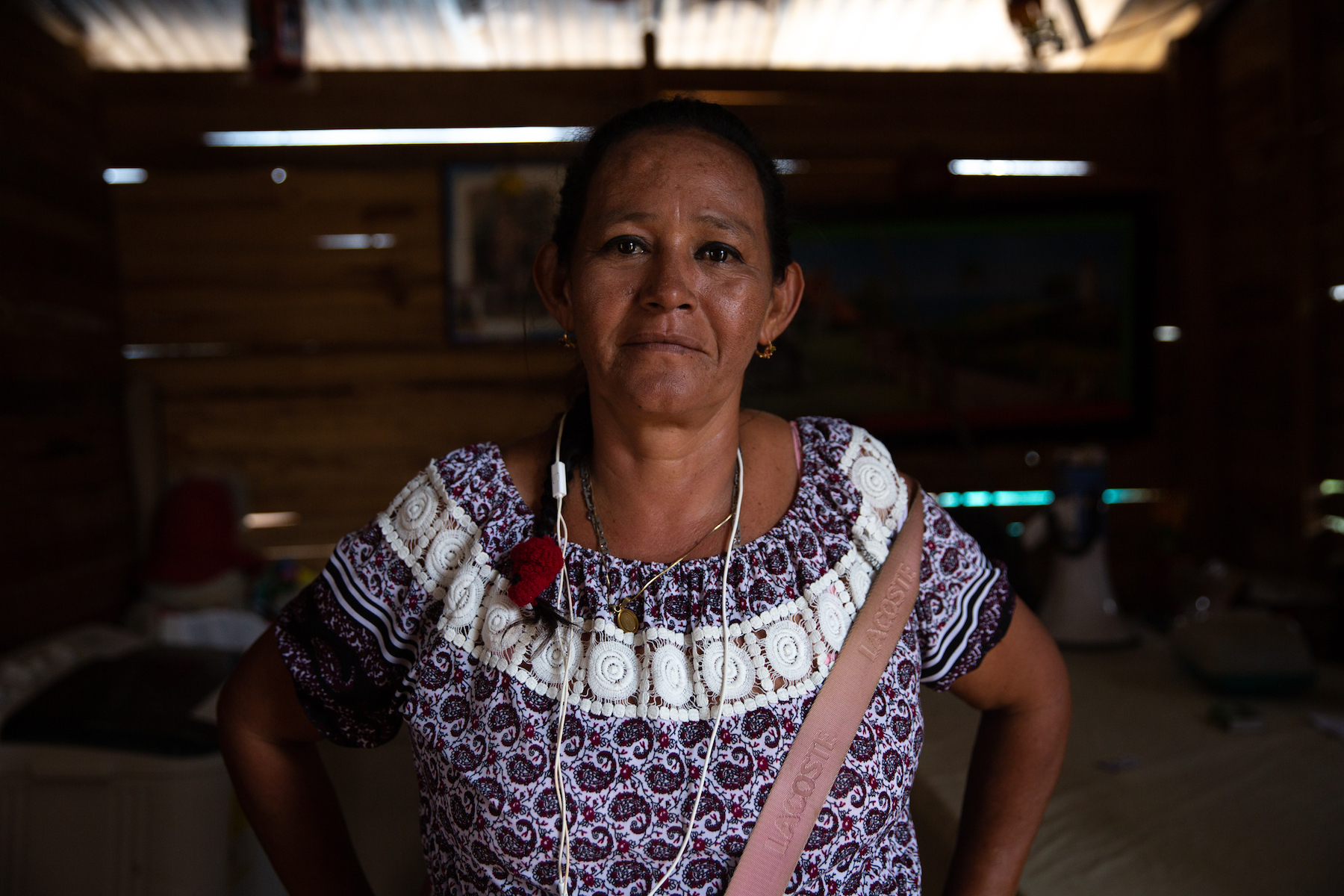 Sonia Pimiento, settlement leader of Alfonso Gomez, inside her home. (Photo: Pu Ying Huang/VICE News)
"People called them hoodlums, but for us, they were the only ones who supported us," Pimento said, sniffling. "If it hadn't been for them, we wouldn't be here."