OMO VALLEY, Ethiopia — One night, in his village of 20 grass huts in Ethiopia's Omo Valley, Golonkiwo had a nightmare. As a
komoru
, or mystic of the Mursi tribe, Golonkiwo's duty is to receive and interpret dream prophecies. It is a vital role, passed down from father to son in one of the world's oldest surviving cultures.
"In my dream, I saw the government soldiers coming for us," Golonkiwo stated. "They killed a lot of people."
At that time, last October, rumors were already circulating in the villages about a massacre of nearby Bodi tribesmen. Government soldiers had come to disarm the Bodi, and the Bodi had fought back. "The crocodiles are still eating corpses," a Mursi witness reported, after having seen security forces chase the Bodi into local rivers.
After Golonkiwo's dream, several komorena had sprinkled cow's milk on the roads to prevent, by divine magic, a similar tragedy befalling the Mursi. The komorena maintain that it worked: the government changed its tactics.
Instead of an assault, invitations came. The Mursi say the government had prepared a meeting, requesting the attendance of approximately 220 high-ranking tribesmen. When the men arrived, however, there was no meeting. The Mursi men were imprisoned in a compound, under ransom. The price of their release was set at 9,000 guns, to be extracted from a population of 7,000-11,500 Mursi.
It was at this time last autumn that I received a letter from an American friend, an anthropologist who has lived among the Mursi for 15 years. My friend, who asked to use the pseudonym Jonathan, was intrigued by accounts of a fiercely independent tribe that has almost entirely resisted incursions by Christian mercenaries. At approximately 2,500 square miles, or about the size of Delaware, the wild region where they live has remained virtually intact until recently. Jonathan had come, initially, on foot, with nothing, so as to better integrate with the tribe. Years later, after mastering the language, he ended up marrying the daughter of a chief.
In 2005, when Jonathan first arrived in Mursi-land, the tribe was still essentially living as they had for thousands of years. The Mursi had been dependent on the floodwaters of the Omo River to irrigate and fertilize their crops, supplemented by cattle and goat herding, as well as hunting.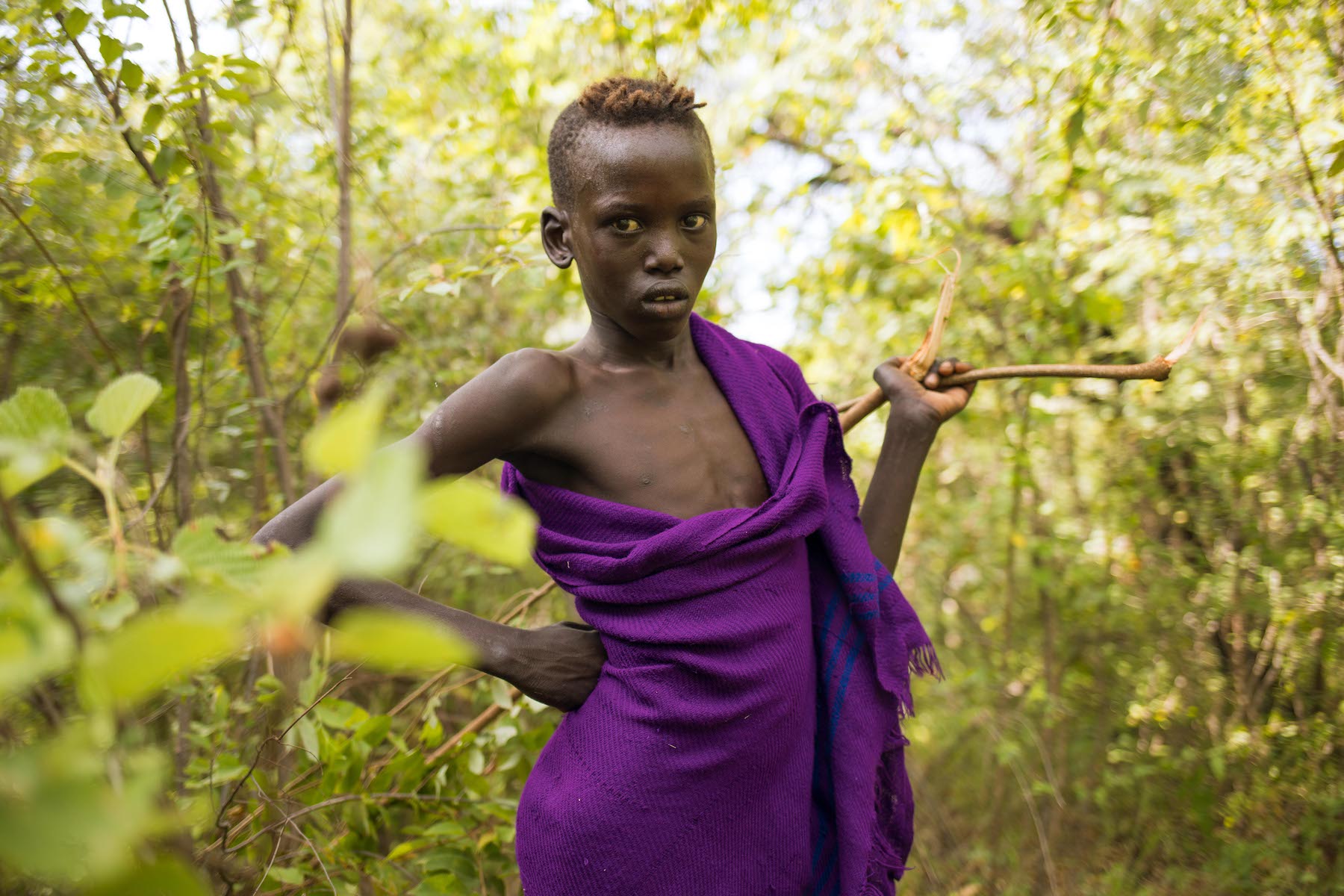 A mursi boy herds cattle. Photo: Roc Morin/VICE News.
Everything changed in 2015 when a government-backed Italian firm completed the Gibe III hydroelectric dam upriver. All seasonal flooding ceased for the first time in millennia, according to the Mursi, rendering vast tracts of tribal land unfarmable. Famine ensued. Simultaneously, water was diverted for a government scheme to establish industrial sugarcane plantations throughout the Omo Valley. The new irrigation features soon became breeding grounds for malarial mosquitoes.
Foreign workers have brought illnesses of their own, including HIV for the first time, into the once-isolated region. As the coronavirus pandemic intensifies, and Ethiopia has enforced few precautions, it seems inevitable that the virus will impact the tribes as well. The total number of deaths from illness has been difficult to establish due to the nomadic lifestyle of these tribal people, as well as a strong local taboo against naming the dead. The tribespeople, however, insist that the deaths have been "many."
In Addis Ababa, the nation's capitol, these consequences have been viewed as necessary sacrifices to progress. Inaugurating the project in January of 2011, then-Prime Minister Meles Zenawi promised that "even though this area is known as backward in terms of civilization, it will become an example of rapid development."
The catastrophic effects of the dam were foreseen in a 2011 United Nations report, in which the U.N. World Heritage Committee called upon the Ethiopian government to "immediately halt all construction" and for "all financial institutions supporting the Gibe III dam to put on hold their financial support." Salini Impreglio, the firm that constructed the dam refuted their detractors, stating that "The campaign against the construction of the Gibe plant in Ethiopia is merely another initiative without a technical and scientific basis."
Still, many lenders, including the World Bank, African Development Bank, and European Investment Bank, all refused to fund the dam. Undeterred, the Ethiopian government turned eastward, securing funding from the China Development Bank, China Exim Bank, and the Industrial and Commercial Bank of China.
"If they knew I talked to you, they would slit my throat."
Once this initial funding had been established, the World Bank finally agreed to indirectly finance the project by providing $684 million toward the construction of power lines to export electricity from the dam to neighboring Kenya.
Since its initial investment in Gibe III, China's presence in Ethiopia has expanded exponentially. As the African nation's own government website boasts, "Ethiopia attracted foreign investment of $1.2 billion in the first six months of the 2016-17 fiscal year, dominated by Chinese companies."
The Chinese have built infrastructure including highways, bridges, waterworks, and telecommunications throughout the country, as part of its extensive Belt and Road initiative. While the Chinese have promoted this program as an expansion of the ancient "Silk Road" that once spanned Asia, it has been criticized by rival governments as a form of modern colonialism.
In addition to government funding by the Asian superpower, Chinese corporations have also established a strong presence here. In the wake of domestic corruption scandals, sugar plantations that were originally run by the Ethiopian military have been bought out by Chinese businesses, which have also received permission to build additional facilities in the Omo Valley. A 2017 article in the state-run China Daily titled "Life is sweet for sugar industry in Ethiopia" referred to 10 such plants being under construction at the time, on what it called "barren" land. In each case, territory had been forcibly seized from local tribes by the Ethiopian military without compensation.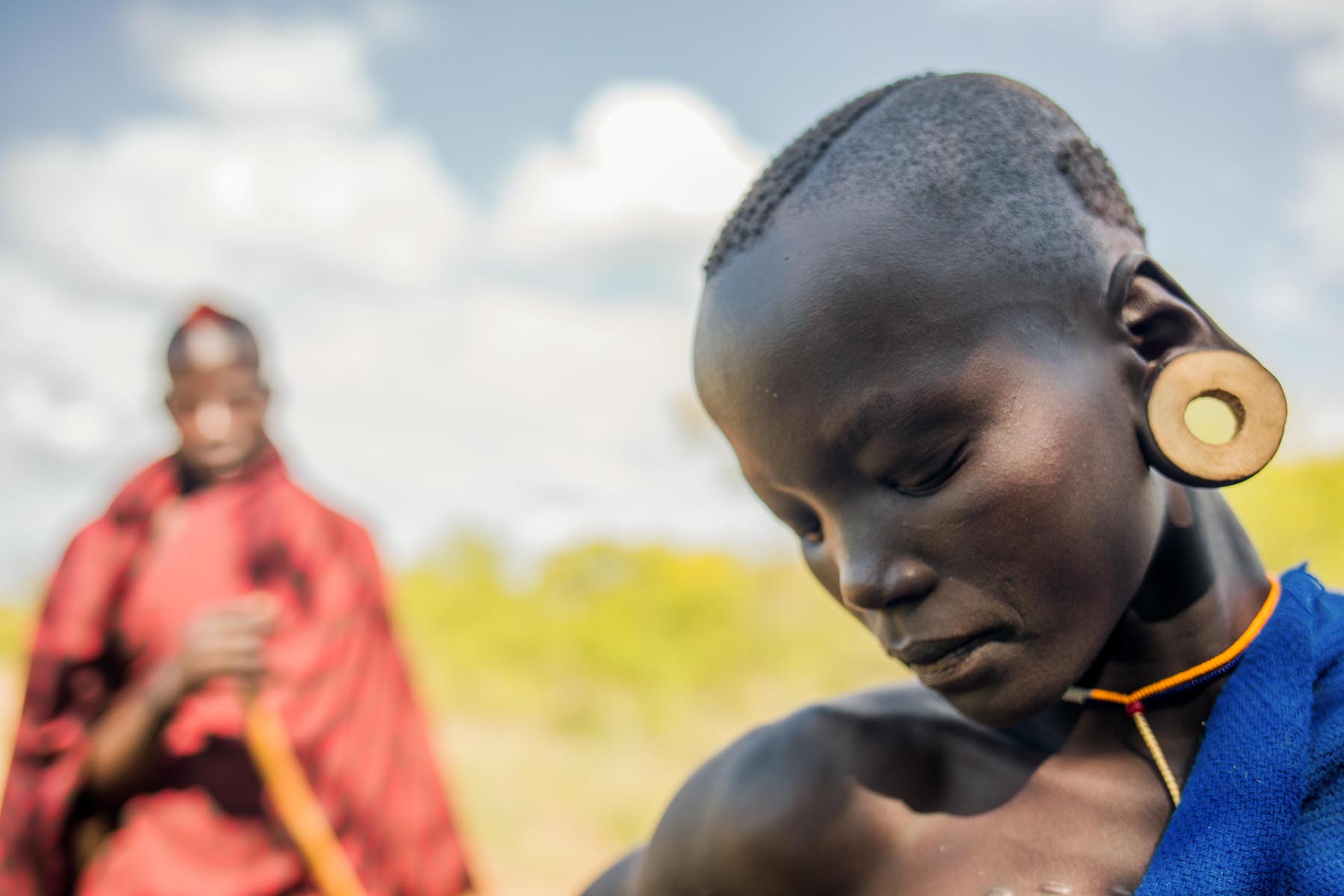 A Mursi girl. Photo: Roc Morin/VICE News.
Sugar produced by these Chinese conglomerates is already being consumed around the globe. Some Western brands, like Coca-Cola and Pepsi, have pledged to source ingredients only from farms that respect indigenous land rights. The United States, as the world's largest consumer of sugar and Ethiopia's third largest export destination, likely receives much of it through direct import and in products like breakfast cereal and soda pop.
As the plantations and sugar refineries multiply, local tribespeople have increasingly been fighting back, staging raids against both machinery and workers. The presence of foreign investment has increased pressure on the Ethiopian government to stabilize the region, which has led to the ongoing military initiative to confiscate all tribal firearms.
Since Prime Minister Abiy Ahmed's inauguration in 2018, the politician has increasingly pursued legislation to restrict gun ownership nationwide. Until recently, the army has largely attempted to seize these weapons by force. The soldiers have effectively employed battle tactics taught to them by trainers in the United States military. These trainers were instrumental, post-9/11, in modernizing the Ethiopian National Defense Force as it fought domestic Islamic terrorists. Since 1951, the U.S. has provided nearly $15 billion worth of aid to the African nation.
Despite the continuation of strong U.S. backing, a series of tribal massacres by Ethiopian forces over the past two years seems to have influenced recent Nobel Peace Prize laureate Ahmed to modify his government's disarmament strategy.
"They said, 'We are going to kill you. You are going to die.' We believed them. We even wished they would slit our throats."
When Jonathan first wrote to me, his close friend Olishwai had already been in detention for a month. Jonathan requested that I report on the situation in person. By the time I was able to come, two months later, Olishwai had just been released. I was able to speak with the Mursi elder in a derelict hotel in Addis Ababa. He had traded in his tribal robe for a T-shirt and trousers, and was now in hiding. Olishwai, like everyone quoted in this piece, requested to be identified by a pseudonym due to fear of retaliation.