AYAHUALTEMPA, Mexico — The boys sling .22-caliber rifles over their shoulders, standing erect, their faces covered with bandanas and caps to shield their identities. Their leader, Luis, a scrawny figure with warm eyes, calls out commands. "Position four!" he yells in a high-pitched voice. In unison, the dozen recruits fall to the floor of the basketball court, belly-down, aiming their guns straight ahead.
Luis is 13 years old.

Luis and his barely adolescent friends are the latest enlistees in a self-defense group in Mexico's southwestern state of Guerrero, which sits at the heart of Mexico's heroin trade and has been wracked by violence in recent years. The militia is training the boys, some as young as 6, to serve as the last line of defense should a cartel strike the community, as it has others.
The militia, known as CRAC-PF, emerged in 2014 in place of local police who were considered corrupt, and stretched-thin federal and state security forces. Amid a wave of violence and targeted attacks by a local drug cartel, they've taken the drastic step of training children to use guns.

"We are preparing the children because if they lose their parents, who is going to defend them? What's clear is that the government is not going to defend us and much less the human rights advocates who criticize us," said Bernardino Sánchez Luna, who founded the group.

Government officials and human rights groups accuse the militia of exploitation. Even in a country accustomed to a steady drumbeat of violence, the images of the children in military-style exercises published by local media earlier this year have pierced the public consciousness, drawn comparisons to child soldiers, and raised questions about whether this will become a new norm.
President Andrés Manuel López Obrador said the militia should be "ashamed" for arming the boys. "Training children to use weapons and then filming them is an abuse," he said.
But the boys' training appears elementary at best, somewhere between guerrilla warfare and Boy Scouts, as they practice the same positions on repeat. The boys' parents say it's an act of desperation by a community that's trapped by violence on all sides. It's also a gambit to get the attention of government officials who they say have abandoned them.
Nestled in the foothills of the Sierra Madre del Sur mountain range, Ayahualtempa is one of 16 indigenous communities protected by the militia. The communities are isolated hamlets with limited cell service, accessible only by a winding two-lane highway known as the "corridor of death," as rival gangs fought for control of the drug route and tussled with civilian militias.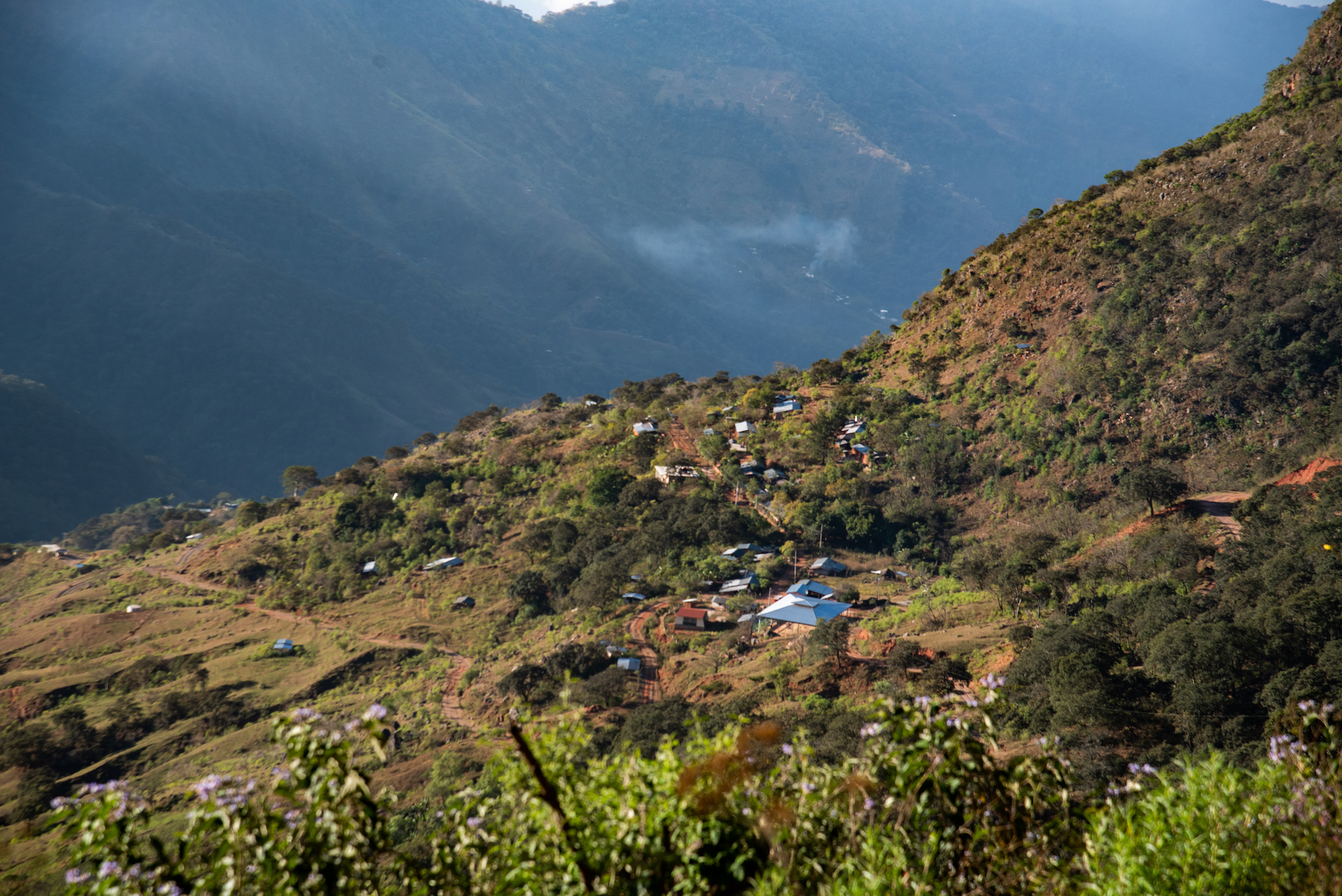 Rincón de Chautla is one of 16 indigenous villages protected by the militia. (Photo: Lenin Mosso/VICE News)
The violence detonated last year. A growing number of people from Ayahualtempa were murdered when they ventured outside the village: one man shot in his car, another kidnapped, a boy shot dead in broad daylight. Luis' uncle was also killed. "They hid it from me, but I learned he had been found dismembered," Luis said.
"They hid it from me, but I learned he had been found dismembered."
Ayahualtempa had never received much government support, but now it was a target as the local cartel tried to take control. The number of murders in the six miles around the village more than doubled in 2019 from a year earlier, said Chris Kyle, a professor at the University of Alabama at Birmingham who studies violence in the region.
The community went on virtual lockdown. Kids stopped going to school. The women halted their weekly trips to the nearby city to do their shopping and sell their beans and squash. The men ventured out only in convoys with a dozen armed companions for fear of being ambushed.
"If we leave town, we might get kidnapped," Luis said.
In April, members of the civilian militia took around a dozen boys on an eight-day retreat into the mountains. Luis went with his older brother, 15. He listed off the things they learned: "attacking armored vehicles, fighting off ambushes, rescuing allies."
"Drill commands are for parades and celebrations, but shooting positions are for real enemy encounters," he said.
Boys 12 and older were given guns, a mix of 22-caliber rifles and 20-gauge shotguns. The younger boys practiced with sticks and toys, in preparation for the day when they can carry guns.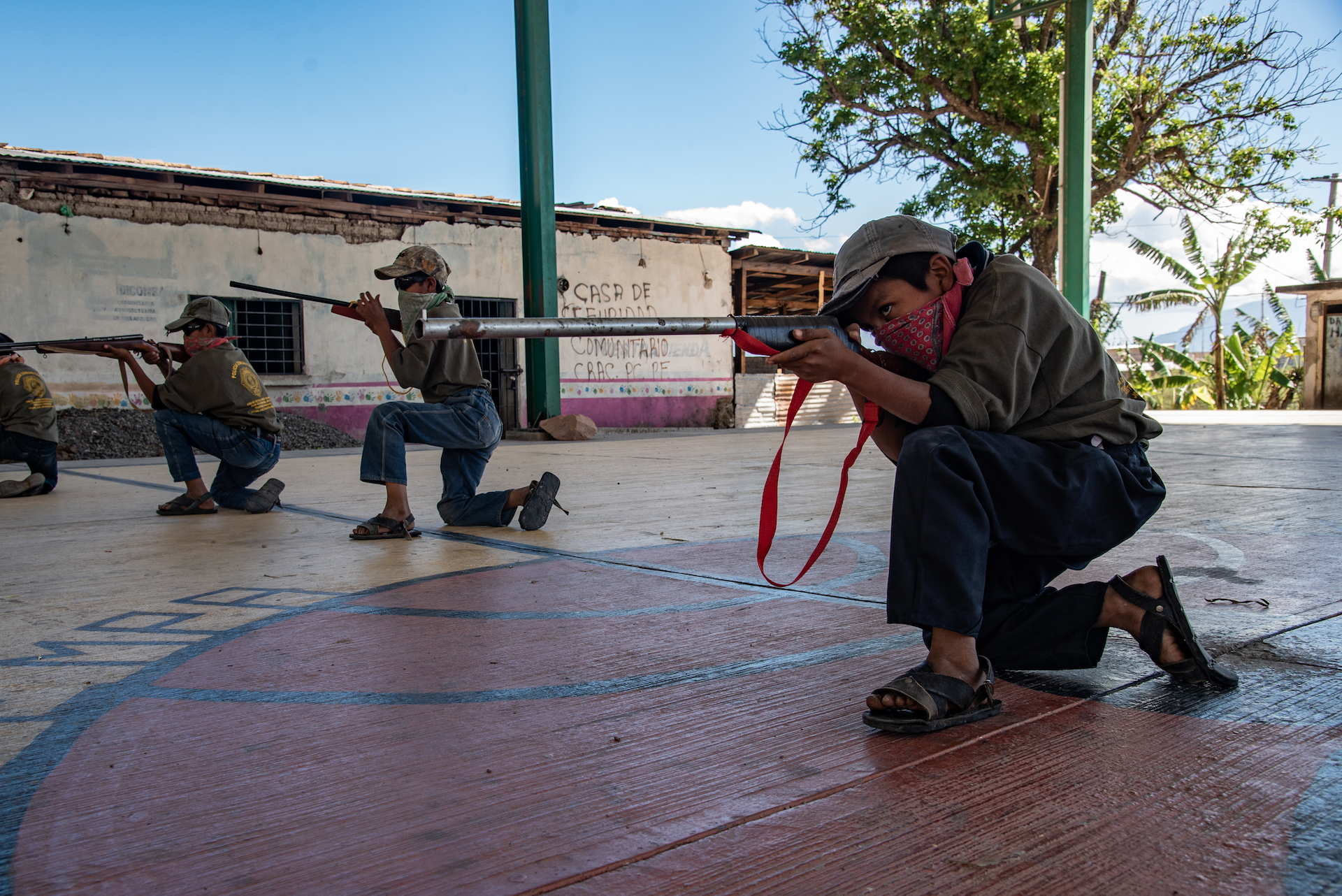 In Ayahualtempa, boys as young as six are training to serve as the last line of defense should a cartel strike the community. (Photo: Lenin Mosso/VICE News)
Luis was named a leader of the group because he didn't miss a day of training. But at school, his teacher told him he was at risk of being expelled because he had skipped so many days. Luis loved school — math class in particular — but his mom was terrified every time he went.
While just a 30-minute walk from the village, the middle school is in territory controlled by the drug cartel. Parents were terrified. By summer, Luis and his brother and sister stopped attending school because of the violence, as did most of the older kids in the community.
"Of course, it makes me scared that they walk around with guns."
"More than anything, I wish they studied. If things were peaceful, then they could study and make something of themselves," said Luis' mother, Dominga, who asked to withhold her last name to protect her son. She runs the house and takes care of the family cows. "Of course, it makes me scared that they walk around with guns. But it's so they can defend themselves."
The escalation in violence comes amid a larger security crisis in Mexico, with 2019 registering the highest number of murders on record. López Obrador has rejected a strategy of head-on confrontation with the cartels, saying it leads to more violence.
In Guerrero, Los Ardillos cartel, or "The Squirrels," is sowing terror.