Business is booming for the DIY "ghost gun" industry, with manufacturers reporting widespread backorders and shipping delays due to a "pandemic buying surge."
Ghost guns are typically sold as kits online and marketed as an 80% complete firearm. But they evade federal regulation because they're not classified as real firearms by the Bureau of Alcohol, Tobacco and Firearms — even if the finished product can look and function exactly like any other high-powered firearm you might buy in a store.
The apparent increased demand for ghost guns comes amid a spike in gun sales generally. Driven by fears over coronavirus and a looming economic recession, Americans have flocked to gun stores across the country to stock up on ammo and firearms.
"We feel that sales are up like it's Black Friday."
"This oughta be a time, historically, a time of year that guns don't sell," said Jerry Roberts, owner of Tennessee Arms Company, which manufactures firearm parts to federally licensed gun stores and sells ghost gun kits. "We feel that sales are up like it's Black Friday."
At least 16 companies that offer ghost gun kits have put out statements apologizing for shipping delays, which they attribute to "exceptionally heavy demand," according to screenshots compiled by Everytown for Gun Safety and shared with VICE News.
"Sales are up because when people become concerned about their security and the example is buying groceries and toilet paper and such. These are just one of the items that shows people are concerned something is up," said Roberts. "It's mysterious, which makes it even more frightening… Instead of learning the ways to properly wash your hands, people instead grab for a gun just in case."
READ: China is making tons of PPE respirators, but U.S. hospitals can't buy them
Ghost gun kits were initially a niche hobby enjoyed by firearm enthusiasts — and some companies are marketing their wares as a fun project for people who are suddenly spending a lot more time at home due to social distancing.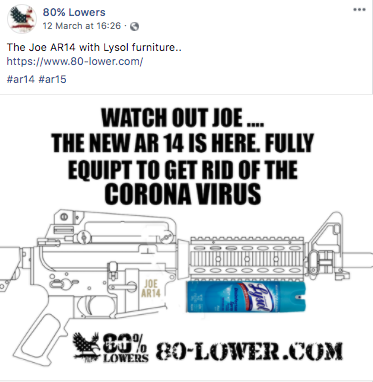 ATF doesn't currently classify ghost gun kits as firearms, which means buyers get to evade federal regulation, and the finished product doesn't have a serial number. For this reason, they've also become popular among criminals. And they create a huge headache for investigators: According to the ATF, 30% of all guns recovered at crime scenes in California last year didn't have serial numbers.