This article titled "Triumph revival fuelled by continuing nostalgia for 1960s retro chic" was written by Jamie Doward, for The Observer on Saturday 12th September 2015 23.05 UTC
A quarter of a century ago, it was given up for dead.
Triumph, a much-loved British manufacturing brand that began life in the 19th century, seemed to be heading for the scrapheap, another motorbike maker destined to go the way of so many motorcycle marques.
The company that built the machines on which a leather-clad Marlon Brando smouldered in The Wild One and on which Steve McQueen sought to escape the Nazis in The Great Escape was forced to close its doors, unable to compete against an invasion of faster, technologically more advanced bikes from Japan.
Fast-forward 25 years and today Triumph has a future firmly rooted in its past – thanks in no small part to consumers' never-ending nostalgia for the Britain of the Swinging Sixties.
The Triumph brand has become synonymous with cool, something that has helped it achieve a near Lazarus-like revival. Last year Triumph sold 54,500 motorbikes – close to its peak in the 60s. It operates in 57 countries and over the last 12 months in the UK sold more large motorbikes – those above 500cc – than any of its rivals. Dealers say a second-hand Triumph can cost nearly as much as a brand-new one because demand for some of its models, notably its retro bikes such as the Bonneville, are so strong.
"Biking per se is cool," said Paul Stroud, Triumph's sales and marketing director. "It has been since Marlon Brando and The Wild One. The Triumph brand's heritage makes it attractive."
Mining the 60s for inspiration is a tried and tested route for many vehicle manufacturers. BMW brought back a remodelled Mini, Fiat a Cinquecento.
"The retro chic of the 60s has never been away," suggested Ellis Cashmore, visiting professor of sociology at Aston University and author of the book Celebrity Culture. "There's always been this deference to the 60s – the decade of release, when everything changed. It was the first decade when the young asserted themselves. It is by far the most iconic decade."
Triumph was admired by the likes of Bob Dylan, and no less a style icon than David Beckham is now regularly photographed riding his customised Triumph Bonneville. Indeed the machines are appearing with such extraordinary regularity on both the small and large screens that there is a suspicion the company must be spending a fortune to make sure its products are seen.
Triumph bikes have appeared in Luther and Hannibal; they feature in next year's BBC spy thriller The Night Manager, and the forthcoming blockbuster London Has Fallen, starring Gerard Butler.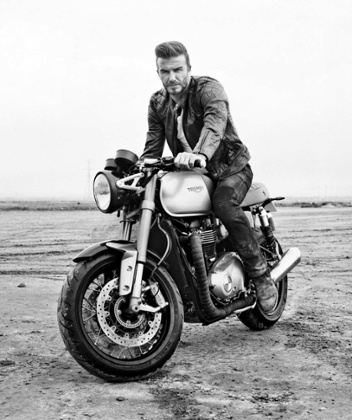 In the new series of Doctor Who, Clara, the doctor's assistant, will ride a Bonneville Scrambler. The actor Chris Pratt rode the same machine in Jurassic World, sparking a 100% increase in internet searches for the bike and doubling bookings for test rides.
Such product placement would normally cost millions of pounds. But Triumph is unusual. While it employs an agency to make production companies aware that its bikes are available for use, it has never paid for its machines to feature in films or for celebrity endorsement. "We're not really into marketing and advertising to the masses," Stroud said. "If you've paid to put it there, then that's pretty clear. The bigger the film the odder it looks."
It was an approach that worked for the company in the past. "Steve McQueen wasn't paid to ride Triumphs," Stroud explained. "He just wanted to ride the best thing you could buy. That's our ambition. We are delighted that David Beckham is a fan of the brand and chooses to ride Triumph. We are incredibly pleased that he chose to ride one of our bikes in the BBC documentary Into the Unknown."
Not since Charlie Boorman and Ewan McGregor popularised BMW's all-terrain adventure bikes in their series, Long Way Round, has a motorcycle brand received such high-profile support. "Having Beckham seen on your motorbike is similar to having Madonna drink Timothy Taylor's," Cashmore said. After the singer declared a love of the real ale brand, sales soared.
But Triumph is painfully aware how fickle success can be. In 1967 Evel Knievel attempted to jump the fountain at Caesar's Palace casino in Las Vegas on a Bonneville. Just 15 years later, Triumph's Meriden factory in the West Midlands closed its doors.
Today, having resumed production in 1990, it employs 2,000 people and has five factories spread across the UK and Thailand, as well as assembly plants in India and Brazil.
The risk for the company now is that it could become a victim of its own success. Aware of the retro trend, BMW has brought out the R nineT, Ducati its Scrambler, Yamaha the XSR700, and Kawasaki the W800.
Cultural commentators have suggested that the emergence of the "classic" bike market has given the industry a new affinity with the fashion world, taking it back to the heyday of Brando and McQueen and beyond its association with motor racing that has seen enthusiasts spend a small fortune kitting themselves out to look the part.
"You can drive around in cool leather jackets instead of full leather outfits," Stroud said. "The whole association with fashion and bikes is back in again."